Girl named after female terrorist murderer of 37 Israelis is shown on PA TV
Official PA TV News
A report is shown on a party held for children of prisoners on the occasion of Eid Al-Adha, the Muslim "Sacrifice Feast" holiday. A prisoner's daughter named Dalal Mughrabi Abu Sharar is interviewed, who is named after terrorist Dalal Mughrabi, who led the murder of 37, 12 of them children.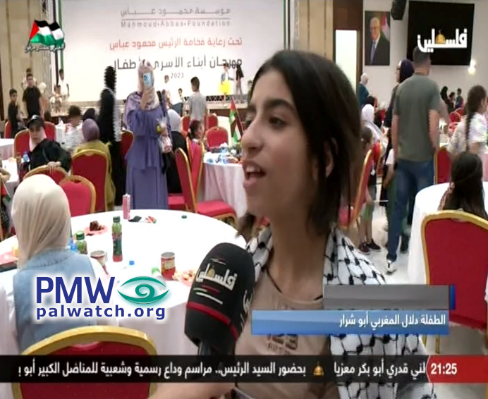 Dalal Mughrabi Abu Sharar: "I want to bless everyone with a holiday blessing, happy holidays, and to tell [my father]: Allah willing, you will be released and you will be with us next holiday, and Allah will release you and all the prisoners."
[Official PA TV News, July 1, 2023]
Dalal Mughrabi – female Palestinian terrorist who led the most lethal terror attack in Israel's history, known as the Coastal Road massacre, in 1978, when she and other Fatah terrorists hijacked a bus on Israel's Coastal Highway, murdering 37 civilians, 12 of them children, and wounding over 70.