Cartoon depict Israel as a monstrous assault rifle killing high school students
Cartoon published in the official PA daily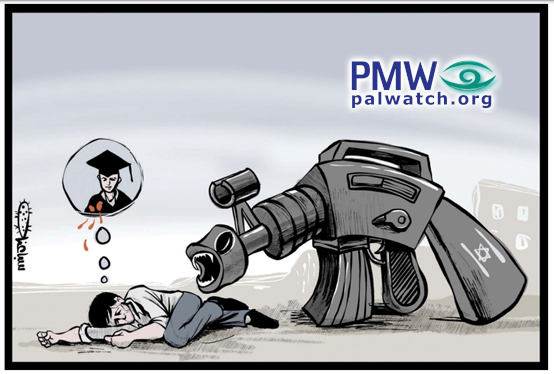 The cartoon shows a monstrous assault rifle opening its barrel like a mouth to expose fangs, with eyes on the barrel and an Israeli flag on the rifle stock. The rifle is standing over the prone body of a young Palestinian lying on the ground, who is thinking of himself dressed in a cap and gown for high school graduation, with blood dripping from the thought bubble.
The cartoon refers to 18-year-old terrorist Mahmoud Abu Sa'an, who shot at Israeli soldiers together with accomplices a day before the cartoon was published. Abu Sa'an's picture appeared on the front cover of the same edition of the official PA daily in which the cartoon appeared.
[Official PA daily Al-Hayat Al-Jadida, Aug. 5, 2023]

Mahmoud Abu Sa'an – 18-year-old Palestinian terrorist who shot and threw explosives at Israeli soldiers together with accomplices in Tulkarem on Aug. 4, 2023. The soldiers returned fire, killing Abu Sa'an.