Brainwashed and dead: PMW uncovers haunting chat of 16-year-old terrorist "Martyr"
Itamar Marcus and Nan Jacques Zilberdik
|
Teen terrorist to friend:

"When I will have just died as a Martyr publish this:

'

I will achieve Martyrdom and I will anger the enemies'"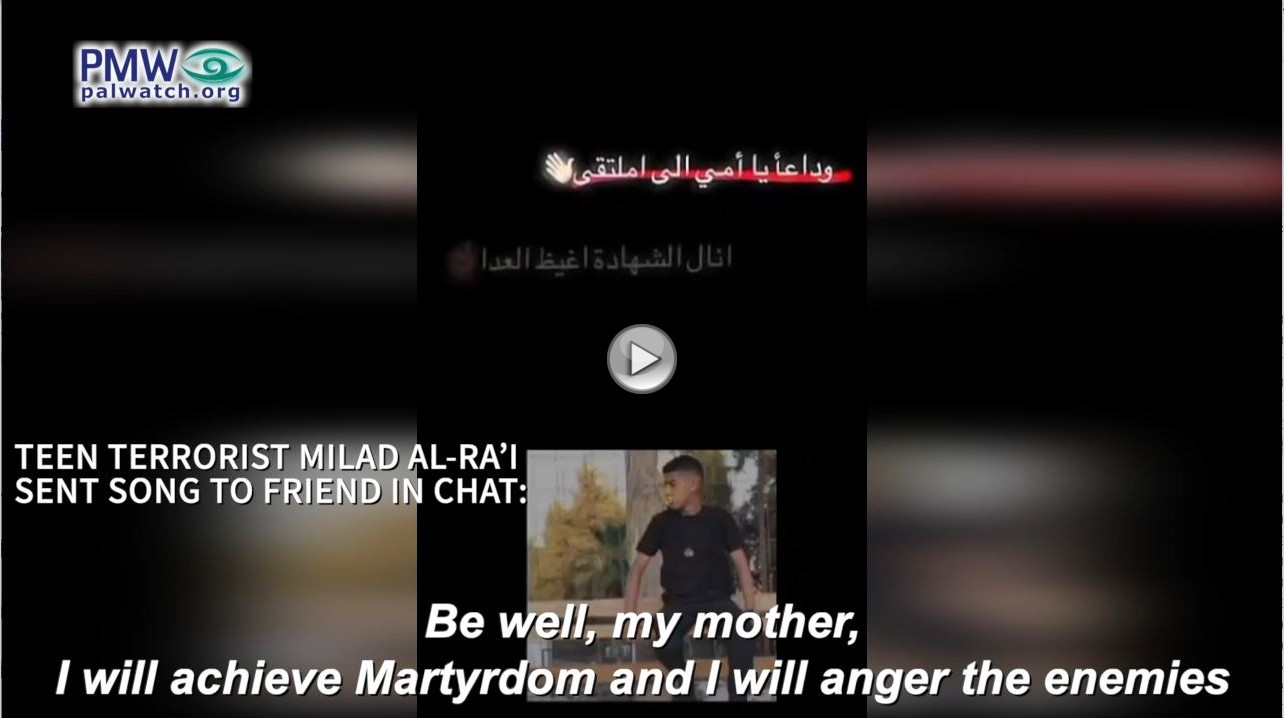 Palestinian Media Watch has uncovered the ominous text messages of 16-year-old singer Milad Mundhir Al-Ra'i who was killed two weeks ago after throwing a Molotov cocktail at Israeli soldiers. PMW has accessed a Telegram channel created to commemorate the child terrorist, which published a screenshot of a chat he had with a friend anticipating his "Martyrdom-death." Al-Ra'i's messages to his friend show that he hoped and even planned to "die as a Martyr for Allah."
First, the young terrorist sent his friend a video with his own picture and a song
celebrating death as a "Martyr" with the words:
"Be well, my mother, I will achieve Martyrdom and I will anger the enemies"
Having sent the song, Al-Ra'i texted his friend asking him to publish the video after he "achieved" Martyrdom. The words of the song and the ensuing chat show the results of the systematic PA brainwashing of Palestinian children about the value of "achieving Martyrdom-death":
Song Lyrics: "Be well, my mother,
I will achieve Martyrdom and I will anger the enemies
I will be an advocate [in Heaven] on the day of meeting
To the pool of [heavenly] waters of true Prophet [Muhammad]"


The chat that followed between teen terrorist Milad Al-Ra'i and his friend:
Milad Al-Ra'i: "When I will have just died as a Martyr publish this (video)."
Friend: "Allah willing, my brother."
Friend: "You want to leave me?"
Milad Al-Ra'i: "Just come to my grave and tell me whatever you want, think of me as listening to you, and I will be your advocate [on Judgement Day]. What do you want that is better than that?"

[Milad Al-Ra'i, Telegram channel, Sept. 10, 2023]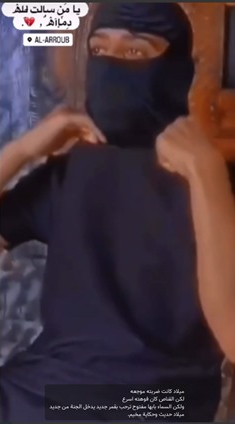 Prior to leaving to participate in the attack against Israeli soldiers, Al-Ra'i filmed himself putting on a black mask to hide his face. This was also posted on the Milad Al-Ra'i Telegram channel to honor his "Martyrdom." [Milad Al-Ra'i, Telegram channel, Sept. 10, 2023]
The short song Al-Ra'i sent to his friend incorporates two PA messages to Palestinian children:
The first is that dying as a "Martyr" is an "achievement," something to be aspired to.
The second message is that Martyrdom is something that "will anger the enemies" - i.e., Israel. This is a repetition of a message to children that Palestinian Media Watch first exposed in 1998 in PMW's first report on PA schoolbooks. Already then, the PA taught children in 7th grade that they should desire to die for Allah as Martyrs with the goal of "enraging the enemy." It was done by this poem titled "The Martyr," which includes the words:

Picture in PA schoolbook of child "Martyr", 1998

"I shall carry my soul in my palm and toss it into the abyss of destruction...
And then either a life that will gladden friends, or a death that will enrage the enemies.
By your life! I see my death, but I hasten my steps towards it...
By your life! This is the death of men.
And who asks for a noble death - here it is..."

["Our Beautiful Language for 7th grade," section 1, p. 81]
PMW pointed to a similar parallel between girls 20 years apart who all embraced the ideal of Martyrdom-death, when an 8-year-old girl congratulated her 16-year-old cousin on her "Martyrdom-death."
Young terrorist Al-Ra'i's messages to his friend show that still today, the PA's brainwashing is terribly effective.
Milad Mundhir Al-Ra'i - 16-year-old Palestinian terrorist and member of the Islamic Jihad terror organization who participated in violent confrontations in which Palestinian terrorists threw Molotov cocktails at Israeli soldiers at a military post near the Al-Aroub refugee camp, north of Hebron, on Sept. 9, 2023. The forces returned fire, killing Al-Ra'i.