Teen "Martyr" was "hero of the pipe bombs"
The "Milad Al-Ra'i" Telegram channel – which was created to commemorate dead terrorist Milad Al-Ra'i, who participated in violent confrontations with Israeli soldiers – posted text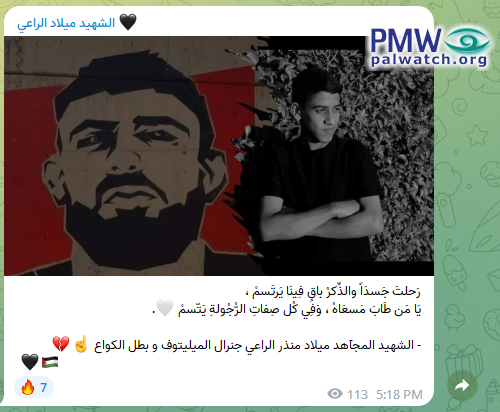 Posted text: "You went in body, and your memory is still recorded within us.
O, one who strived for good, and who was characterized by all the manly attributes.
Jihad fighter Martyr Milad Mundhir Al-Ra'i (i.e., terrorist, participated in violent confrontations with Israeli soldiers), general of the Molotov cocktails and hero of the pipe bombs."
[Milad Al-Ra'i, Telegram channel, Sept. 13, 2023]
Milad Mundhir Al-Ra'i - 16-year-old Palestinian terrorist and member of the Islamic Jihad terror organization who participated in violent confrontations in which Palestinian terrorists threw Molotov cocktails at Israeli soldiers at a military post near the Al-Aroub refugee camp, north of Hebron, on Sept. 9, 2023. The forces returned fire, killing Al-Ra'i.