PA cartoon criticizes Palestinian leaders for deaths in Gaza
Itamar Marcus and Nan Jacques Zilberdik
|
PA cartoon criticizes Palestinian leaders
for deaths of Palestinians in Gaza fighting

by Itamar Marcus and Nan Jacques Zilberdik
A cartoon in the official PA daily
Al-Hayat Al-Jadida
indirectly criticized the recent Palestinian Islamic Jihad attacks targeting southern Israel, which brought Israeli air strikes against terrorist targets in the Gaza Strip, and deaths to Palestinians.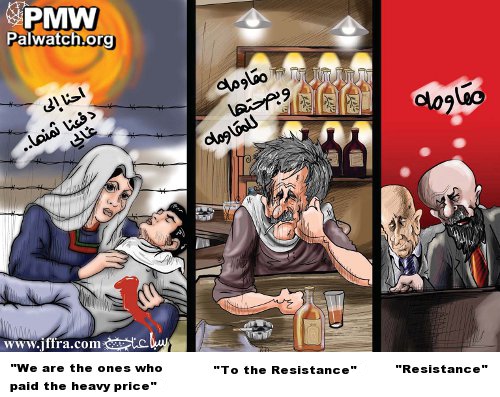 [Al-Hayat Al-Jadida, March 11, 2012]
In the first column (right) of the cartoon, two men representing undefined Palestinian leaders say: "Resistance" - the Palestinian Authority euphemism for violence against Israel.
The middle column shows a tired Palestinian giving a toast: "To the Resistance."
The third column (left) shows a Palestinian woman mourning her dead saying: "We are the ones who paid the heavy price."
Although the PA paper criticized Islamic Jihad in this cartoon, the PA official policy was to place all the blame on Israel for the recent fighting. For example:
"President [Mahmoud] Abbas condemned the severe Israeli escalation against our people in the Gaza Strip..."
[Al-Hayat Al-Jadida, March 11, 2012]
Similarly, a number of articles and opinion pieces in the PA media accused Israeli Prime Minister Netanyahu of responsibility for the fighting. PLO Executive Committee member Hanan Ashrawi accused Netanyahu of starting this round of violence for internal political reasons:
"PLO Executive Committee member Hanan Ashrawi said: 'What is taking place in Gaza is a clear attempt to intervene in internal Palestinian affairs... and to increase Netanyahu's popularity in the upcoming elections...'"
[Al-Ayyam, March 12, 2012]
Although the PA has been discussing and proclaiming unity for some time now, animosity remains between the various Palestinian factions. This might explain the official PA daily cartoon's critique of the violence that has been led from the Hamas-ruled Gaza Strip.