PA TV honors prisoner convicted of murder with visit to his family's home
PA TV program
Link in the Chain.
Episode dedicated to Prisoner Alaa Ahmad Abd Al-Mun'im Salah, serving a life sentence for murder: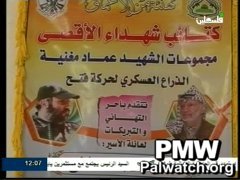 Poster shown with Fatah and Al-Aqsa Martyrs' Brigades symbols and the inscription:

"Al-Aqsa Martyrs' Brigades
Martyr (
Shahid
) Imad Mughniyeh squads
Military wing of the Fatah movement
[Extends] Warm wishes to the family of prisoner:
Alaa Salah"
Mother:
"I consider Alaa one of the heroes of Palestine, whether he is a prisoner or whether he had been martyred."
Wife:
"Alaa, praise to Allah – his arrest is an honor for us. Praise to Allah, it is an honor for me that he is a prisoner; had he been martyred, praise to Allah – that would be a tremendous honor."
Poster shown with Fatah symbol and inscription:

"The heroic prisoner Alaa Ahmad Salah"
Note: Salah, a resident of Gaza, had been sought since 1994 for the murder of an Israeli citizen. In 2004, he was recruited by the Al-Aqsa Martyrs' Brigades to murder another Israeli and transfer the body to the terrorist organization for bargaining purposes. He was arrested before the planned meeting and murder were due to take place. He is serving a life sentence.