Alleged CIA report predicts end of Israel by 2022
Itamar Marcus and Nan Jacques Zilberdik
|
PA TV airs story of alleged CIA report that predicts end of Israel by 2022
TV host prays for realization of "CIA report"
by Itamar Marcus and Nan Jacques Zilberdik

Palestinian Authority television interviewed a Syrian journalist who claimed to have seen a top secret CIA memo from the Clinton administration. This CIA memo allegedly predicted that Israel would not survive beyond the year 2022. The PA TV host responded with a short prayer that this prediction should be fulfilled:
Syrian journalist, Al-Bujayrami: "What I'm going to say, no one has ever heard. A report was submitted by the American Central Intelligence Agency, the CIA, to former US President Clinton. It was written on the report: 'Eyes only.' 'Eyes only' means for the President's eyes only. No one else is allowed to see it."
PA TV host: "Top secret."
Al-Bujayrami: "It's more classified than 'top secret.' ... The CIA says [in this report]: 'If things continue as they are, we don't think that Israel will continue to exist after the year 2022...'"
PA TV host: "By Allah, from your mouth to Allah!"
[PA TV (Fatah), June 12, 2012]
Click to view

Palestinian Media Watch has reported that PA officials and the PA controlled media often present the image of a world without Israel and express the goal for Israel to be destroyed or cease to exist. The following are some recent examples:

This recent op-ed in the PA daily expressed hope for Israel's destruction:
"We remember you, all of Palestine. You are present within us... until we return to you, oh Haifa, Acre, and Jaffa, all of historical Palestine... and all the temporary ones [Israelis] will go away... May their [Israeli] independence collapse, and may Palestine come back to life."
[Al-Hayat Al-Jadida, May 15, 2012]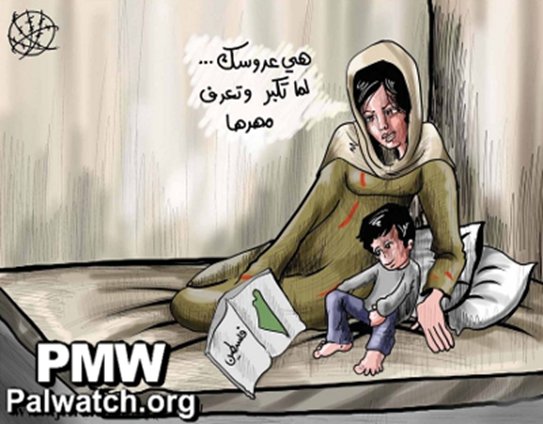 A cartoon in the official PA daily sent the message that the destiny of Palestinian youth is to destroy Israel when they grow up.
In the cartoon, a mother shows her son a map that includes all of Israel and the PA areas, defined as "Palestine." The mother tells her son:
"This is your bride... when you grow up you will know the dowry."
[Al-Hayat Al-Jadida, March 31, 2012]

In March of this year, the PA Minister of Social Affairs called for Palestinian unity so that the destruction of Israel can finally be achieved:
PA Minister of Social Affairs Al-Masri: "We demand of everyone to push ahead with reconciliation [between Fatah and Hamas] and to end the state of division, so that we will be able to stand against the occupation, to halt its activities against our prisoners, and turn to the struggle for the liberation of Palestine - all of Palestine."
[Al-Hayat Al-Jadida, March 9, 2012]

In a broadcast from Al-Jazeera TV, Fatah Central Committee member Abbas Zaki stated that the "great goal" is to remove Israel from existence:
"President [Mahmoud Abbas] understands, we understand, and everyone knows that it is impossible to realize the inspiring idea, or the great goal in one stroke. If Israel withdraws from Jerusalem, if Israel uproots the settlements, 650,000 settlers, if Israel removes the (security) fence - what will be with Israel? Israel will come to an end. If I say that I want to remove it from existence, this will be great, great, [but] it is hard. This is not a [stated] policy. You can't say it to the world. You can say it to yourself."
[Al-Jazeera, Sept. 23, 2011]