New Fatah logo erases Israel
Itamar Marcus and Nan Jacques Zilberdik
|
New Fatah logo erases Israel

Official logo celebrating Fatah's 48th anniversary
includes map that shows all of Israel as "Palestine"
by Itamar Marcus and Nan Jacques Zilberdik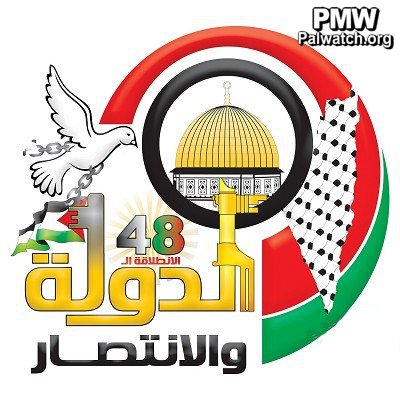 The official Palestinian Authority daily published a picture of the official logo chosen by Fatah for celebrations marking the movement's 48th anniversary. The logo features various symbols, including a map of "Palestine" that includes all of Israel, the number 48, the Palestinian flag, and the slogan for the 48th anniversary: "The state and the victory."
Palestinian Media Watch
has documented that official PA maps do
not acknowledge
Israel's existence and mark all of
Israel as "Palestine
." The maps appear in all official frameworks including schools, government offices, official PA media, logos, at events and in official documents.
Other symbols central to Fatah ideology also appear in the logo, including a
rifle
and a key symbolizing the Palestinian claim of ownership to houses within Israel (see letters in yellow). The pattern in the map is reminiscent of the Palestinian keffiyeh-scarf. The dove breaking the chain symbolizes the freeing of all Palestinian prisoners. The golden dome represents both Islam and the Palestinian claim to Jerusalem.
The following is the article announcing the new logo in the official PA daily:

"Senior Fatah official in the Gaza Strip, Yahya Rabah, stressed that the movement this year will hold a big, central rally in the Gaza Strip on the day of the 48th anniversary of the beginning of the Palestinian revolution. Rabah explained to Ma'an that the event will be held considering the atmosphere of reconciliation and unity that has prevailed in the Palestinian arena in the last few weeks following the accomplishments in the battlefield (i.e., the Hamas-Israel military conflict in Gaza November 2012) and the accomplishments at the UN (i.e., UN vote granting "Palestine" observer status). The organizing committee for the 48th anniversary of the Fatah movement approved this year's main anniversary logo... [The rally] will take place in Gaza to mark the 48th anniversary of the modern Palestinian revolution under the slogan 'the state and the victory.'"
[Al-Hayat Al-Jadida, Dec. 10, 2012]