Abbas inaugurates housing project for families of terrorist prisoners
"In the Al-Ubeidiya village east of Bethlehem a cornerstone was laid for the 'Hamlet of Hope' housing project for prisoners serving life sentences.
The ceremony was attended by Chairman of the Presidential Office Hussein Al-A'araj who represented President Mahmoud Abbas and by the Minister for Prisoners' Affairs Issa Karake…
In his address Al-A'araj said that this project, planned at the constructive and pioneering initiative of prisoners' families of Bethlehem, is proof of the Palestinian nation's determination to be resolute and to free the prisoners from their prisons, and to cling to life and liberty.
He said that the birth of the housing project is an example and model that should be emulated in all the districts, since it represents cooperation, solidarity, and collective responsibility for confronting the challenges posed to the Palestinian nation. [He noted] that this project demonstrates loyalty to and love for the prisoners, and that they are not alone, for everyone looks forward to their return so that they may live in their homes with their families.
Al-A'araj added that the Palestinian leadership and relevant institutions will endeavor to supply all means needed to complete this pioneering project as soon as possible.
Karake, on his part, said that the 'Hamlet of Hope' neighborhood instills hope among the prisoners, whose dreams the occupation thinks it has shattered through life sentences...
Karake expressed his appreciation of the role played by the AMMAN Association of prisoners' families that initiated this project and supervised it. He thanked all the government institutions and offices that aided it and supported it along the way.
Najlaa Al-Hajj who thought of the idea for the project, and is the wife of prisoner Abd Al-Rahman Miqdad who was given 21 life sentences plus 15 years, said that it was according to President Mahmoud Abbas' directives that the 'Hamlet of Hope' housing project was inaugurated for families of prisoners serving life sentences…
Al-Hajj added that the idea for the project is meant to serve prisoners sentenced to life who spend the best years of their lives in prison, so that when a prisoner gets out of prison he will find that he has a house. She noted that she has no house, and that she lives in her family's home…
She went on to add: 'We bought a piece of land of 11 dunams [1 dunam = 1,000 sq. meters] in the Ubeidiya area for the families who will benefit [from the project], and the owner of the land contributed another dunam.' She noted the cooperation of Minister of Local Government Dr. Khaled Al-Qawasmi who granted a full exemption from all authorizations, and expressed willingness to take care of the project's infrastructure…
[The project] serves 73 prisoners from the Bethlehem district who have been sentenced to life in prison."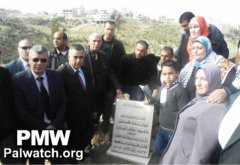 The cornerstone inscription, pictured in a photograph that appeared in
Al-Hayat Al-Jadida
on Dec. 26, 2012, reads:

"In the name of Allah the All Merciful
Sponsored and Supported by
The President of the State of Palestine
Mahmoud Abbas Abu Mazen
May Allah Protect Him
The Inauguration of the "Housing of Hope" Hamlet
For Bethlehem District Prisoners Serving Life Sentences