National Post reports on Fatah's new logo erasing Israel, exposed by PMW



'No interest in peace with Israel': New Fatah logo sparks outrage over Palestinian nationalism

by Tristin Hopper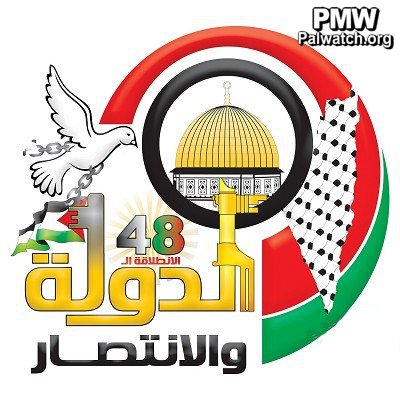 The Israel-based Palestinian Media Watch noted the new Fatah logo features keys, a symbol of Palestinian claims to property within Israel, while the checkered pattern overlaying the image of a united Palestine is reminiscent of a keffiyeh, the scarf worn by PLO leader Yasser Arafat and a well-known symbol of Palestinian nationalism.
Reacting to a new Fatah logo that appears to depict a united, Israel-free Palestine, the Jewish organization B'nai Brith says it shows the Palestinian Authority and President Mahmoud Abbas are lukewarm about a two-state-solution.
"We are continuing to warn the [Canadian] government not to be fooled into accepting the notion that Fatah and Abbas want real peace with the Jewish state," said Frank Dimant, head of B'nai Brith Canada. "[A] true partner for peace on the Palestinian side does not exist."
His remarks echo the U.S.-based Zionist Organization of America, which said the logo proves Fatah and the PA "have no interest in peace with Israel, only its destruction."
Last month,
Al-Hayat Al-Jadida
, the official daily newspaper of the Fatah-led PA, issued a logo for the party's 48th anniversary. It featured a map of the British mandate of Palestine, the state that existed before the 1948 establishment of Israel.
It was quickly spotted by the Israel-based Palestinian Media Watch.