PA TV News: French city grants "honorary citizenship" to terrorist prisoner
Note: Majdi Al-Rimawi - sentenced to life imprisonment plus 80 years for participating in the planning and murder of Israeli Minister Rechavam Zeevi in 2001.PA TV host 1:
"The French city of Bezons awarded honorary citizenship to the prisoner Majdi al-Rimawi from the village Bani Zeid Al-Gharbiyya. This title and award were given during an official ceremony held in France, to which the wife of the prisoner, Fathiya al-Rimawi, was invited..."
PA TV host 2:
"Prisoner Majdi al-Rimawi, of course, has been jailed in the occupation's (i.e., Israeli) prisons for 11 years and is sentenced to life imprisonment plus 80 years."
Terrorist Al-Rimawi's wife
: "This connection between the city of Bezons and the Municipality of Bani Zeid Al-Gharbiyya began in 2008... The matter of prisoners in our region caught the attention of [our] French brothers, and they decided to honor them by granting honorary citizenship to a prisoner from this area. Of course, all prisoners deserve all the good, all the honor and all the admiration, from the smallest of them to the greatest, from the most lenient sentence to the heaviest sentence. However, as part of the historical ties [between the municipalities], and since we in the [Bani Zeid] municipality started the relationship with the French brothers, prisoner Majdi Al-Rimawi was the one chosen to be recognized and granted this honorary award. For us, the family of the prisoner, this award is a great gesture from the French [people] and [shows their] support of the issue of Palestinian prisoners in general, and in particular the issue of prisoners sentenced to long prison terms."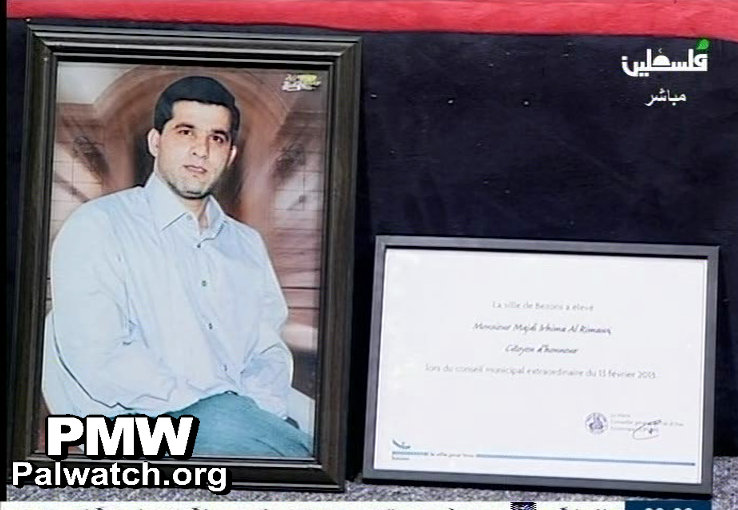 PA TV focused on the plaque from the city of Bezons, which included the following dedication (in French):
"The city of Bezons has promoted
Mr. Majdi Irhima Al-Rimawi
[to] Honorary Citizen
at the extraordinary city council on February 13, 2013"

PA TV also zoomed in on the following text:
On the left:
"An olive branch for the Palestinians (literally "olive tree").
A state for the Palestinians on the 1967 borders.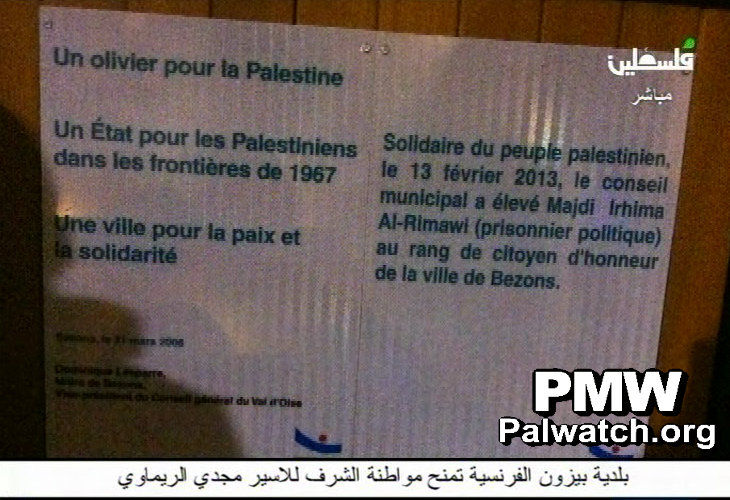 A city for peace and solidarity."

On the right:

"In solidarity with the Palestinian people, on February 13, 2013, the city council promoted Majdi Irhima al-Rimawi (political prisoner) to the rank of honorary citizen of the city of Bezons."

Click to view bulletin

Note: Majdi Al-Rimawi - sentenced to life imprisonment plus 80 years for participating in the planning and murder of Israeli Minister Rechavam Zeevi in 2001.
This news report originally aired on Feb. 13, 2013 and was rebroadcast on Feb. 20.


» View analysis citing this item