PA TV honors terrorists who killed 22 children
Itamar Marcus and Nan Jacques Zilberdik
|
PA TV honors terrorists
who killed 22 children and 4 adults

Other terror attacks by DFLP also honored

by Itamar Marcus and Nan Jacques Zilberdik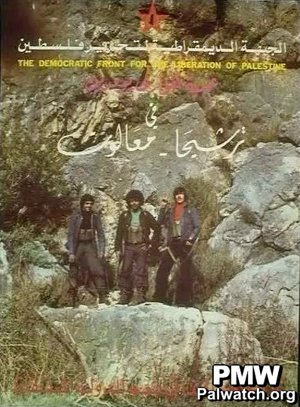 Poster glorifying terrorists
of the Ma'alot massacre in 1974,
which killed 22 children and 4 adults
Official Palestinian Authority TV broadcast a tribute this past week to the Democratic Front for the Liberation of Palestine (DFLP). As part of the tribute
a poster honoring the three DFLP terrorists who committed the Ma'alot massacre was highlighted
on TV. (See opposite).
The Ma'alot massacre was done by the DFLP in 1974. Terrorists took school children as hostages.
22 of them were murdered along with four adults.
The PA TV tribute also honored terrorists who were described as "the heroes of Beit Shean, the pride of the Palestinian revolution."
These were three DFLP terrorists who killed four civilians in the Israeli city of Beit Shean.
Last year
Palestinian Media Watch
reported that PA TV repeatedly broadcast some of these same
posters honoring terrorists
from the DFLP, more than 10 times in one week. The tributes included glorification of the terrorist "Martyrs," as well as their many terror attacks, in which dozens of Israeli civilians were murdered.
The following are posters broadcast this past week on PA TV honoring terror, terrorists and violence:


Poster honoring terrorists from Beit Shean attack
in which 4 were killed:
Text: "Glory to the heroes of Beit Shean,
the pride of the Palestinian revolution"
DFLP poster depicting Israel as "Palestine"
Text: "Gaza, West Bank and Galilee.
Uncompromising struggle for
national independence"
Rifles with flowers
Grenades mixed with fruit in the poster


[PA TV (Fatah), 10 times in February 2012, Feb. 22, 2013]
Click to view more examples of the Palestinian Authority's policy of continued
terror glorification
.
Click to see Palestinian Media Watch's report
From Terrorists to Role Models
.