PMW director on "Jewish 100" list
PMW director on "Jewish 100" list

Itamar Marcus among "top 100 people
positively influencing Jewish life... or the state of Israel"
- list compiled by The Algemeiner newspaper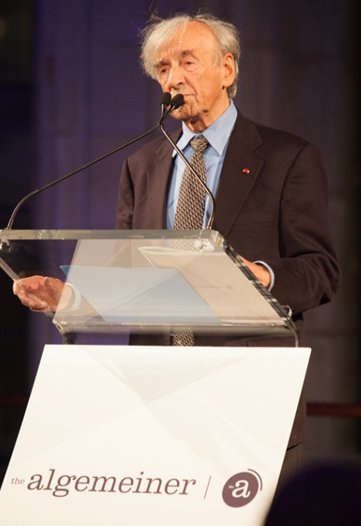 Nobel Laureate Elie Wiesel
speaking at The Algemeiner gala dinner announcing the "JEWISH 100" list.
Last week, The Algemeiner newspaper released its 'JEWISH 100' list of "the top 100 people positively influencing Jewish life." Among the "Jewish 100" is Palestinian Media Watch's director Itamar Marcus.
"You have been chosen," The Algemeiner wrote, "for your impactful work on behalf of the Jewish people and/or the state of Israel."

"PMW is an indispensable resource that makes it that much more difficult for Palestinian elements intent on harming Jews to succeed." [
The Algemeiner
, April 24, 2013]
Itamar Marcus thanks The Algemeiner for this recognition and notes that this acknowledgment of PMW's positive influence internationally is not recognition of one person alone, but of the entire dedicated and professional staff of translators, researchers, and writers at PMW.

Click to read more about the list and the recognition of PMW.