Killer of 10 glorified as "an example for any young person" by Ramallah governor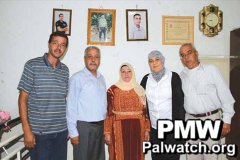 District Governor Laila Ghannam with terrorist Thaer Hammad's family in their home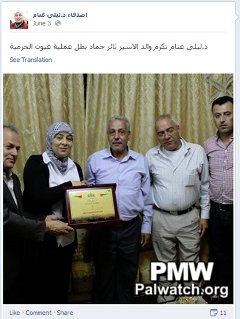 Caption on photo: "Dr. Laila Ghannam honors prisoner Thaer Hammad, hero of the Oyoun Al-Haramiya operation."

Headline:
"Ghannam: 'Our Martyrs (
Shahids
) and prisoners are the nation's conscience and its symbols'"
"District Governor of Ramallah and El-Bireh Dr. Laila Ghannam said that our Martyrs and prisoners are the nation's conscience and its symbols, who have paid a heavy price on the path to achieving our freedom and fulfilling our nation's aspirations, and that in their presence no voice can overcome the voice of their struggle, the resolve of their families, and their honorable way – [they], who saturated the earth of the homeland with the purest blood.
The District Governor delivered President Mahmoud Abbas' greetings while placing a wreath on the memorial monument for the Silwad Martyrs during her tour of the village together with Head of Intelligence in Jenin, Muhammad Daoud.
The District Governor visited the family of prisoner Thaer Hammad and asked how his father is doing, she also emphasized that Thaer is an example for any young person who has love for Palestine flowing in his veins."
Thaer Hammad – Palestinian terrorist serving 11 life sentences for murdering 3 Israeli civilians and 7 soldiers by shooting them with a sniper rifle from a hilltop in Wadi Al-Haramiya between Ramallah and Nablus on March 3, 2002.