Ramallah governor honors terrorists behind Savoy attack, who killed 11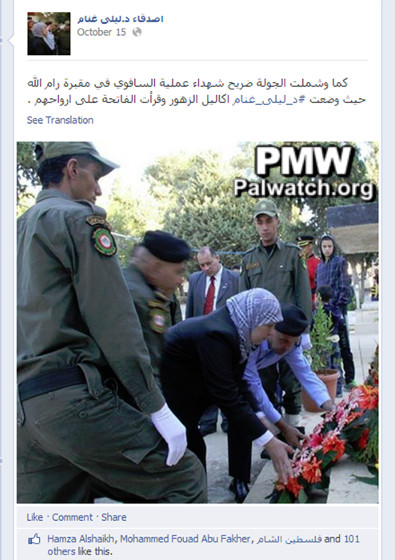 "District Governor of Ramallah and El-Bireh Dr. Laila Ghannam, head of Civil Defense in the district Muawiyah Daraghmeh, deputy head of Ramallah police Bashar Al-Barghouti, military liaison officer of the district and Jerusalem Osama Mansour, director of joint operations and National Security representative Jamal Odeh, deputy head of intelligence in the district Abd Al-Nasser Al-Bayed and representative of the Preventive Security Forces in Ramallah Rami Sha'alan, visited memorials for Palestinian Martyrs of the revolution in El-Bireh, the Al-Amari refugee camp and in Beitunia. In addition, they recited the Al-Fatihah [Quran] Sura for the Martyrs' souls and were received by multitudes of local residents and prominent figures.
[District Governor] Ghannam laid a wreath on the grave of the Jordanian army Martyrs, on the grave of Palestine's Martyrs in the El-Bireh cemetery, on [the grave] of the Martyrs of the Savoy operation (i.e., terror attack) in the Ramallah cemetery, as well as on the Martyrs' graves in the Al-Amari refugee camp and in Beitunia."
Note: Savoy terror attack: In March 1975, eight terrorists traveled by boat from Lebanon to a Tel Aviv beach. They took over the Savoy Hotel and took guests as hostages. The next morning, Israeli forces attacked and killed seven of the terrorists. Eight hostages and three soldiers were killed by the terrorists during the attack.