PA minister: Increased financial benefits to terrorists are pending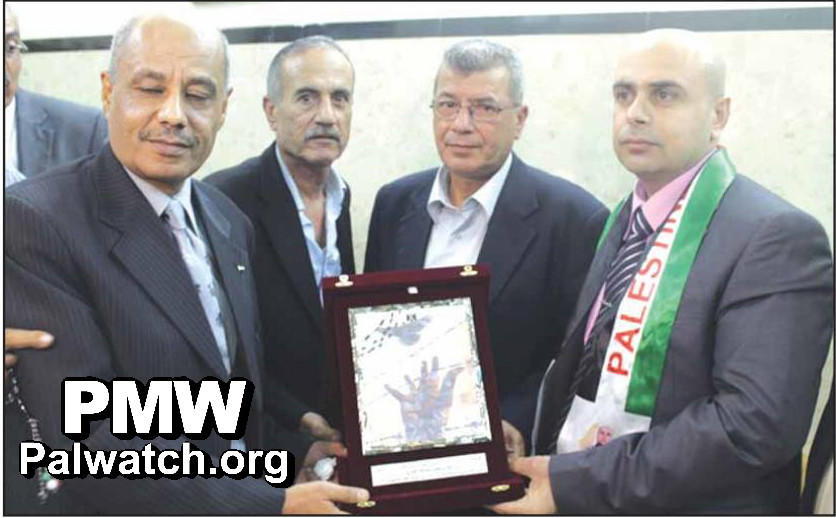 PA Minister of Prisoners' Affairs Issa Karake
visiting released prisoner Abd Al-Rahman Al-Haj
"[PA] Minister of Prisoners' Affairs Issa Karake announced that the prisoners' issue is constantly and continuously on the government's table, due to the great interest in this issue and to the search for every possibility to assist them as fighters who sacrificed for their homeland and country… Karake noted that in recent years the Ministry of Prisoners' [Affairs], in cooperation with all institutions, enacted four implementing regulations of the prisoners' law, and that the fifth regulation relating to the released prisoners is in the final stages of discussion by the Palestinian government. In addition, he explained that the regulation took into account developments in the prisoners' situation and covered many issues that had not been taken into consideration in the past. [Karake] also [explained] that the purpose of the matter is to organize the services provided by law for the prisoners in a just and impartial manner, as part of the existing options and according to the valid laws.… Karake related to a number of other proposals for regulations, which he hopes will be duly approved. They relate to university education in prisons, fertility services for released prisoners, salary completion and the establishment of a national fund to support prisoners and their families, alongside a regulation for deceased released prisoners. Karake spoke during his visits to a number of released prisoners, during which he delivered President [Abbas]'s Grant to them following their release as part of the second phase, and he also conveyed President Mahmoud Abbas' and Prime Minister Dr. Rami Hamdallah's greetings."

Notes: Abd Al-Rahman Yusuf Mahmoud Al-Haj – serving a life sentence and an additional 20 years for stabbing 41-year-old Gania Friedman to death and attempting to murder her father and daughter on Feb. 21, 1992 in a suburb of Tel Aviv. Al-Haj was released in October 2013 as one of 104 terrorists whom Israel agreed to release to fulfill the PA's precondition for renewing negotiations.

According to a statement by PA Minister of Prisoners' Affairs Issa Karake in 2011, a regulation for 'salary completion' means guaranteeing released prisoners two years during which they can work for any suitable institution while the PA covers half their salary cost and the employer pays the second half.