PA Minister Karake honors released murderer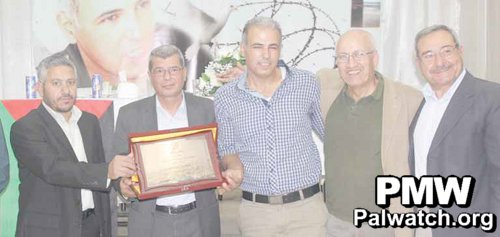 Caption: "Karake honors prisoner Ismat Mansour during the presentation of his novel."
"The Deir Jarir Youth Council in the Ramallah and El-Bireh district presented 'The Barbed Wire Fence,' a novel by released prisoner Ismat Mansour who sat in the occupation prisons for 20 years and was released in the first phase [of 104 released pre-Oslo prisoners].
To discuss the novel and present it, the council hosted [PA] Minister of Prisoners' [Affairs Issa Karake], [and] released male and female prisoners attended [the event]… Karake said that the novel, which was written in prison, is an innovative and unique literary work that sheds light on the prisoners' cultural and philosophical experience… at the end of the conference, Karake honored prisoner Ismat Mansour."
Note: Ismat Mansour – assisted in the kidnapping and murder of Israeli civilian Haim Mizrahi (Oct. 23, 1993). He was serving 22 years in prison, but was released in October 2013 as one of 104 terrorists whom Israel agreed to release to fulfill the PA's precondition for renewing negotiations.