PA minister of Prisoners' Affairs glorifies terrorist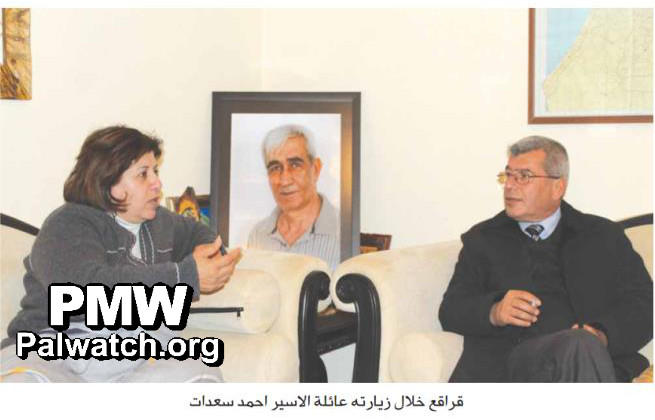 Photo: [PA Minister of Prisoners' Affairs Issa] Karake during his visit with prisoner Ahmad Sa'adat's family.

Headline
: "Karake: 'Ahmad Sa'adat is a symbol of freedom and a conscience for all humanity'"
"[PA] Minister of Prisoners' Affairs Issa Karake said that prisoner Ahmad Sa'adat, the Secretary General of the Popular Front for the Liberation of Palestine [PFLP], is a symbol, a freedom fighter and a conscience for all humanity, who spent his life in the service of his people's freedom and independence, and also spent most of his life in prisons.
Karake noted that Ahmad Sa'adat represents all free men, honorable people and fighters and that he has been distinguished by his bravery, honesty and deep faith in the justice of his cause; [he] carried out acts of bravery and adopted fundamental and revolutionary positions during his path of struggle.
He [Karake] noted that we, the Palestinian people, are proud of this commander and teacher and consider him an educator for generations and an inspiration for all honorable people. [Karake added] that his resolve and confrontation with the enemies were admirable.
This was said by Karake during his visit to prisoner Sa'adat's family in Ramallah, accompanied by a Ministry delegation, where he met with his [Sa'adat's] wife and children on the occasion of the 46th anniversary of the Popular Front for the Liberation of Palestine's foundation."
Ahmad Sa'adat - serving a 30-year sentence for heading the PFLP terror organization. A song at a PFLP event also praised him for planning the assassination of Israeli Minister of Tourism Rehavam Ze'evi in 2001, but he has not been tried for this crime.