Fatah Facebook praises Dalal Mughrabi, who "killed dozens" and "wounded more than 80 Israelis"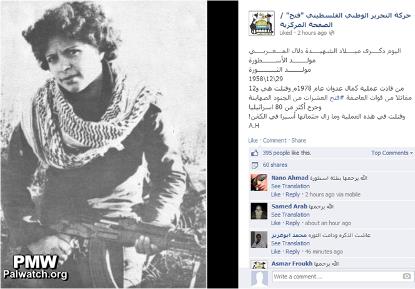 "Today is Martyr (
Shahida
) Dalal Mughrabi's birthday,
The birth of the legend.
The birth of the revolution.
Dec. 29, 1958,
She who led the Kamal Adwan operation (i.e., terror attack) in 1978.
She and 12 fighters from Fatah's Al-Asifa forces (i.e., Fatah military unit) killed dozens of Zionist soldiers and wounded more than 80 Israelis.
She was killed in this operation and her body is still trapped in shrouds!"
Notes: Dalal Mughrabi - led the most lethal terror attack in Israel's history in 1978, when she and other terrorists hijacked a bus and killed 37 civilians, 12 of them children.
Kamal Adwan was responsible for Fatah's terrorist operations and a senior member of Black September. He and Kamal Nasser were killed by Israeli forces in April 1973.