Israel's incitement index largely based on PMW material



Incitement, or something more profound?
Israel's preoccupation with Palestinian incitement highlights a deeper question: Can the Jewish state sign an agreement with those who hate it?

by Elhanan Miller
The cabinet dedicated the bulk of its weekly meeting on Sunday to Palestinian incitement; an issue, Prime Minister Benjamin Netanyahu declared at the outset, that stands at "the root of the conflict.
On Monday, Intelligence Affairs Minister Yuval Steinitz and the director general of his ministry, Yossi Kuperwasser, presented damning evidence against the Palestinian Authority to journalists in Jerusalem. Their slick PowerPoint covered hate speech collected from official and semi-official Facebook pages, television stations and children's magazines.
The Palestinian Authority Incitement Index is an attempt by the Intelligence Ministry to quantify, as scientifically as possible, the level of Palestinian incitement against the Jewish state. The current incitement index stands at just over 40 out of 100, a source in the ministry told The Times of Israel. Netanyahu has directly blamed such incitement for the current uptick in terror attacks on Israelis.
Since October 2009, a team of four Arabic-reading staffers at the Prime Minister's Office has been scanning PA television and social media in search of Palestinian hate speech.
A significant part of the index relies on nongovernmental watchdogs such as Palestinian Media Watch, which this week released footage taken from official Palestinian TV comparing ultra-Orthodox Jews and Israeli soldiers respectively to crows and rats.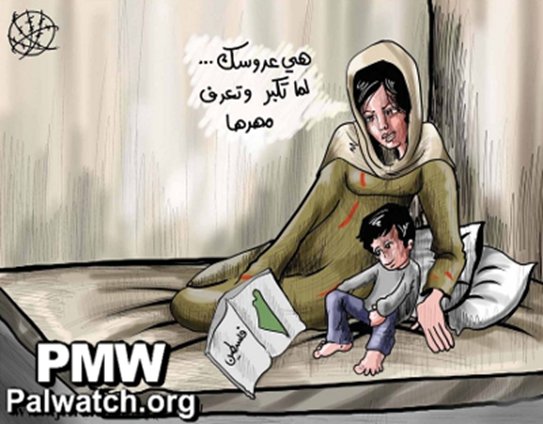 A mother shows her son a book with a map defining all of Israel and the Palestinian Authority areas as "Palestine" and tells him: "This is your bride… when you grow up you will know the dowry." PA official daily Al-Hayat Al-Jadida, March 31, 2012, [exposed by Palestinian Media Watch]

But the haphazard presentation at the Government Press Office on Monday demonstrated, more than anything else, how elusive — or indeed malleable — the term incitement can be...

Rather than defining Palestinian incitement, the Israeli government has made a good case that there is widespread Palestinian hatred for Israelis and Jews, and that it proliferates even as peace negotiations are underway. And what the government is tacitly asking is whether an agreement can be signed with those who hate...