PA military funeral for suicide bombers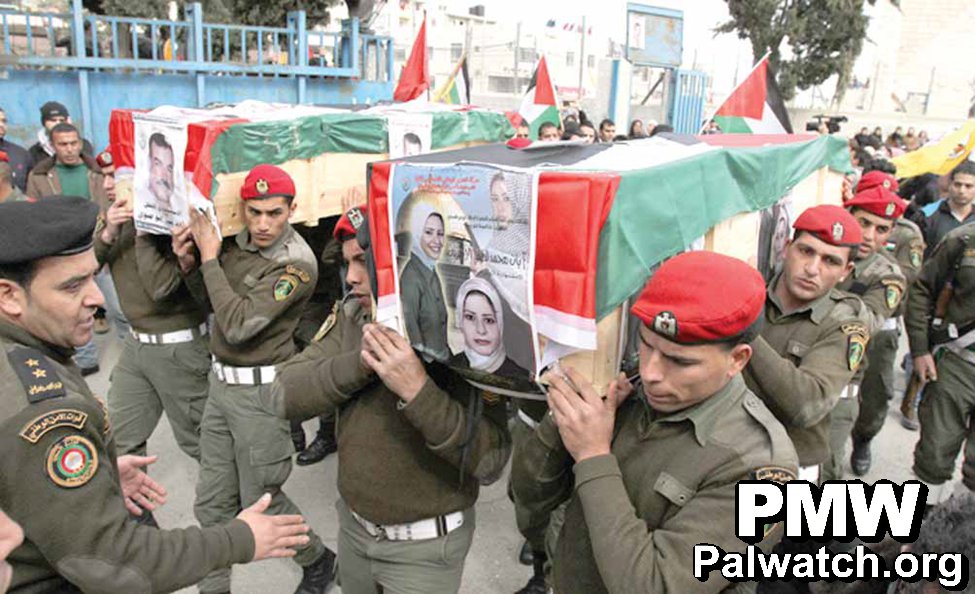 Headline: "Bethlehem escorts the bodies of Martyrs (Shahids) Ayyat Al-Akhras and Daoud Abu Suway to burial"
"The bodies of Martyrs Ayyat Al-Akhras
and Daoud Abu Suway are carried
by members of the National Security Forces during the funeral procession."
"Martyrs Daoud Abu Suway and Ayyat Al-Akhras finally found rest in the place where they had wanted their remains to be buried. The occupation authorities kept Abu Suway's remains in its numbered cemeteries (i.e., Israeli cemeteries for terrorists and enemy soldiers) for 13 years and Al-Akhras' remains for 12 years.
The two Martyrs' funeral procession set out yesterday [Feb. 3, 2014] before noon from the government hospital in Beit Jala, in a military ceremony attended by thousands of citizens who walked behind the caskets that had been covered with flowers and wreaths…
Mufti of Bethlehem Sheikh Abd Al-Majid Amarneh eulogized the two Martyrs and praised their virtues. He declared that our people will not forget the Martyrs, who gave up the most precious thing they had and served as a beacon to guide citizens on their way.
The occupation authorities transferred the Martyrs' remains two nights ago at the Tarqumiyah crossing, after having held them for an extended period of time in the numbered cemeteries: Martyr Abu Suway died a Martyr during a self-sacrifice operation on December 5, 2011 [sic] (should be 2001, Ed.) and Al-Akhras died a Martyr on March 29, 2002.
In terms of people attending, this was the largest funeral in the Bethlehem District in a number of years. Muhammad Al-Akhras, Martyr Ayyat's father, thanked the masses of our people. He said that since his daughter died a Martyr, she has become the daughter of the entire nation and not only of the Al-Akhras family…
Al-Akhras had been an excellent high school student when she died a Martyr. She carried out her operation (i.e., terror attack) in the settlement neighborhood of Kiryat HaYovel when she was 18 years old. Martyr Abu Suway is survived by four sons, the youngest was 9 years old."

Notes: What the article calls the "settlement neighborhood of Kiryat HaYovel" was established in 1952 in West Jerusalem and is recognized internationally as part of Israel.

The Cemeteries for Enemy Casualties are two burial sites maintained by the Israeli army for burying the bodies of enemy soldiers as well as terrorists. They are fenced and well-marked. Graves have markers instead of gravestones. Burial is temporary, on the assumption that the bodies will eventually be returned to their countries of origin. No ceremony is held. The bodies are buried in numbered caskets, after their identities have been documented.

Ayyat Al-Akhras - the youngest female Palestinian suicide bomber (age 17). She killed 2 Israelis and injured 28 in a suicide bombing near a Jerusalem supermarket on March 29, 2002. Israel transferred her body to the PA on Feb. 2, 2014.

Daoud Abu Suway was a suicide bomber from the Islamic Jihad terrorist organization who blew himself up near the David Citadel Hotel in Jerusalem on Dec. 5, 2001. 8 people were wounded in the attack. Israel transferred his body to the PA on Feb. 2, 2014.