Official PA daily crossword: Haifa is "a port in occupied Palestine"
Official PA daily crossword:
Haifa is "a port in occupied Palestine"
by Itamar Marcus and Nan Jacques Zilberdik
Although PA Chairman Abbas proclaims the Palestinian Authority's desire to live side by side with an Israeli state, his official newspaper
Al-Hayat Al-Jadida
promotes a different position when it calls the Israeli coastal city Haifa "a port in occupied Palestine."
That was how Haifa was termed in a recent crossword puzzle in the paper, in a clear denial of Israel's legitimacy and sovereignty.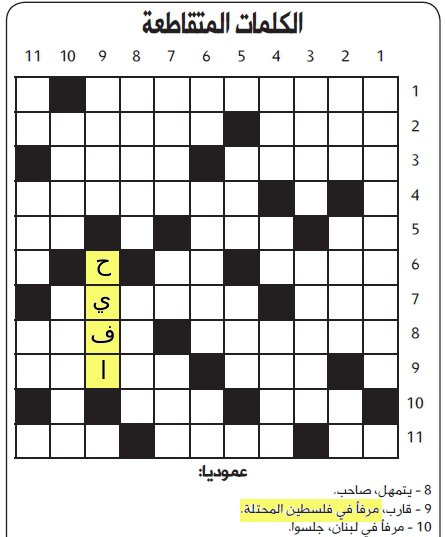 Clue: "A port in occupied Palestine"
Solution: "Haifa"
[Al-Hayat Al-Jadida, Feb. 4, 2014]
Palestinian Media Watch has documented numerous examples of the official PA daily's use ofcrossword puzzles to deny Israel's existence. Cities such as Acre, Safed, Lod and even Tel Aviv have been presented as "Palestinian" or "occupied."
The PA uses the many infrastructures of communication at its disposal to promote the message that there is no Israel, but only "occupied Palestine," and that it is only a matter of time and planning before Israel disappears and "Palestine" returns.
Recently, a PA leader explained that a stages plan to eliminate Israel is the basis of PA policy. Furthermore, the Minister of Religious Affairs alluded that the PA's agreements with Israel are modeled after a peace agreement that Islam's Prophet Muhammad signed but broke as soon as he was strong enough to conquer the enemy. "This is the example and this is the model," proclaimed PA Minister Al-Habbash.
The host of a children's programon official PA TV passed on the same message to children: "We have land that was occupied in 1948, which will return to us one day." Furthermore, the station regularly broadcasts Arab Idol song contest winner Muhammad Assaf singing "Oh Flying Bird," a song which describes "My beautiful country Palestine" as encompassing Jaffa, Tiberias, Acre, Haifa, Beit Shean, Safed, Nazareth, Ramle, the Galilee, the Negev and other cities and regions in Israel.