Fatah awards plaque with Abbas' picture on it to murderer's family
Headline
: "Fatah in Rafah marked the anniversary of the Martyrdom death of Muhammad Al-Qasir"
"The regional Fatah branch, [named after] Martyr (
Shahid
) Khaled Al-Hassan, [which is part of the] main Rafah branch, held a eulogy ceremony for Martyr Muhammad Al-Qasir, on the 12th anniversary of his Martyrdom death. Participants included several supporters, members and activists of the movement and its military wing, the Al-Aqsa Martyrs' Brigades.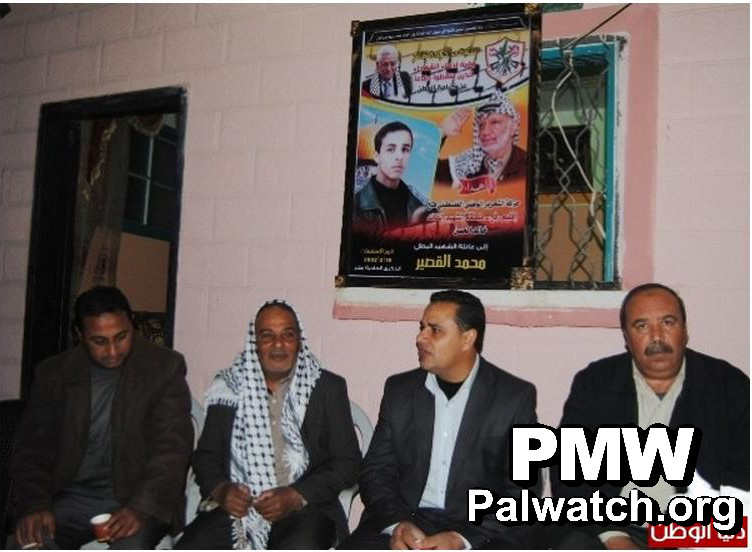 [Al-Qasir] carried out the self-sacrifice operation (i.e., terror attack) in Kissufim in which 3 Israeli soldiers were killed (sic. 2 Israeli soldiers and 1 civilian were killed)…
In a speech held [on behalf of Fatah,] prominent Fatah commander Ishaq Mekheimer said that the movement has always been and will always remain loyal to the blood of its sons, and that, while marking the anniversary [of the death] of Martyrdom-seeker Muhammad Al-Qasir, it is reiterating that it was the first [movement] to ignite the revolution and that it is the pioneer of the struggle…
Likewise, he reiterated that the movement will always continue to express [its] appreciation of all of the homeland's Martyrs – Yasser Arafat, Ahmed Yassin, Abu Ali Mustafa and all the Martyrs of the Palestinian National Liberation Movement and of its just revolution against the Israeli occupation.
Information Commissioner Fadi Al-Nahal said: 'We will not forget the Martyrs, and today the bells are tolling to mark the anniversary [of the death] of one of them – the heroic Martyr who carried out the Kissufim operation, the Martyrdom-seeker Muhammad Mahmoud Al-Qasir.'
…
A member of the Al-Aqsa [Martyrs'] Brigades delivered a speech, in which he emphasized the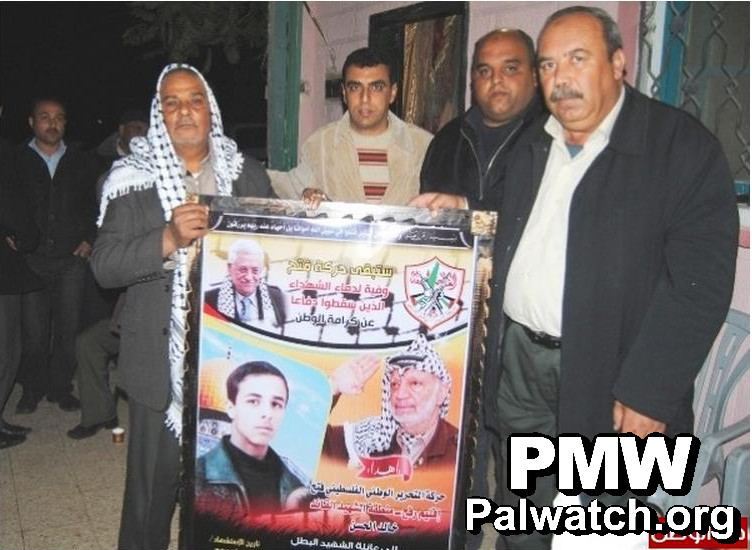 movement's adherence to the resistance and the role of these kinds of operations in changing the equation, and explained that Martyr Muhammad may be absent in body, but he lives on in spirit and in his struggle.
At the end of the ceremony, the regional and main [Fatah] branch administration awarded commemorative plaques to Martyr Muhammad Al-Qasir's family."
Writing next to photo of Mahmoud Abbas that appears on the plaque:
"The Fatah Movement will remain loyal to all those who fell defending the dignity of the homeland."
Notes:

Muhammad Al-Qasir belonged to the terrorist organization the Al-Aqsa Martyrs' Brigades (Fatah's military wing). He shot Israeli civilian Ahuva Amargi to death at the Kissufim checkpoint (Gaza Strip) on Feb. 18, 2002. An Israeli military force that was dispatched to the area of the attack opened fire on Al-Qasir and the bomb he had on detonated, killing 2 Israeli soldiers, Mor Elraz and Amir Mansouri and wounding 3.

Sheikh Ahmed Yassin - Founder and former head of the terrorist organization Hamas. The Hamas movement is responsible for numerous terror attacks and the deaths of hundreds of Israeli civilians.

Abu Ali Mustafa - Secretary-General of the terror organization "Popular Front for the Liberation of Palestine" (PLFP). The PFLP has planned and carried out numerous terror attacks against Israeli civilians since its founding in 1967 and throughout the Palestinian terror campaign between 2000-2005 (the Intifada).