Hamas celebrates killings and kidnapping of Israelis
The Hamas website, Palestine-info.net, has celebrated the killings and kidnapping with graphic posters of smoldering and destroyed Israeli positions. The posters read, "Smashed Illusion Operation",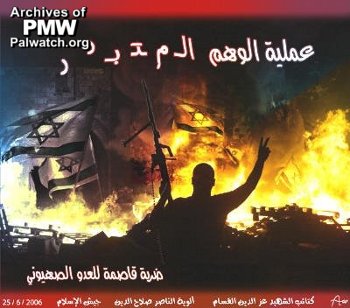 and "Crushing Blow on Zionist Enemy". [See opposite and below].
Another poster in English on the Hamas site features the names of the three groups accepting responsibility, which includes the Al-Qassam Brigades of Hamas, followed by the words "In the first movie - Mission 1 - Be Back!"
[Hamas website,
www.palestine-info.net
]