Official PA daily pays tribute to terrorist "heroic leaders" for "lofty signs of resolve and Ribat"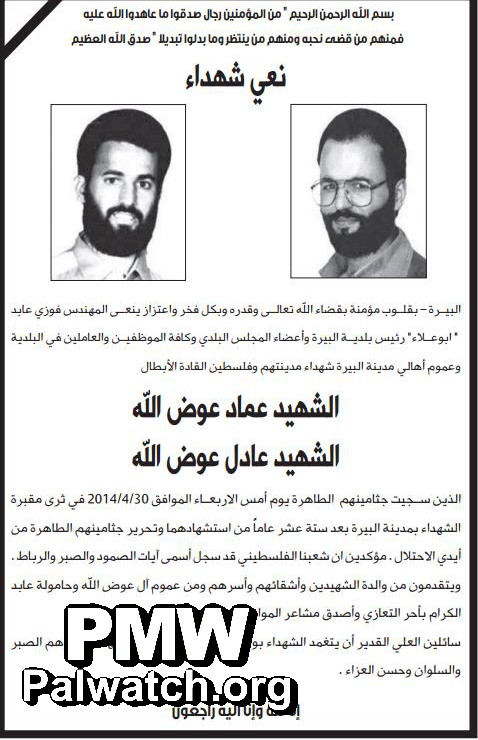 "In the name of Allah, the merciful, the compassionate: 'Of the believers are men who are true to that which they covenanted with Allah. Some of them have paid their vow by death (in battle), and some of them still are waiting, and they have not altered in the least.' (Quran, Sura 33:23, trans. Pickthall). Allah the Mighty has spoken the truth."
Notice on the Deaths of Martyrs (Shahids)
"With hearts that believe in the decrees of Allah the Exalted, and with respect and admiration, the Engineer, Fawzi Abed 'Abu Alaa', mayor of El-Bireh, the members of the municipal council, the municipality employees and the residents of El-Bireh all express their sorrow over the deaths of the Martyrs of their city and of Palestine, the heroic leaders.
Martyr Imad Awadallah and Martyr Adel Awadallah, whose pure bodies were covered yesterday, Wednesday, April 30, 2014, with the soil of the Martyrs' Cemetery of El-Bireh, 15 years after their Martyrdom, and after being released by the occupation. [The above mentioned] emphasize that our Palestinian people has inscribed the most lofty signs of resolve and Ribat (religious conflict/war over land claimed to be Islamic) and express their pure and sincere condolences to the Martyrs' mother, brothers, family members and the entire Awadallah family and the Abed Al-Karam clan. In addition, [the above mentioned] pray that Allah have mercy on the Martyrs and grant forbearance and consolation to their families.
To Allah we belong and to Him we return."

Imad and Adel Awadallah – senior Hamas officials killed in a confrontation with the Israeli army in September 1998. They were responsible for the kidnapping and murder of soldier Sharon Edri on Sept. 9, 1996 and for the Apropo Café suicide bombing in Tel Aviv on March 21, 1997, which killed 3 and wounded 48.