Abbas rep: "Our Martyrs and prisoners will remain the beacon of our magnificent glory"
Headline
: "Honoring families of Martyrs (
Shahids
) and prisoners in Hebron"
"The central Hebron branch of Fatah, the National Liberation Movement, honored families of prisoners and Martyrs this evening, Wednesday, at a rally organized to mark the 12th anniversary of the Martyrdom death of Marwan Zalum 'Abu Saja', under the heading, 'Promise and Loyalty to the Land and the Martyrs.'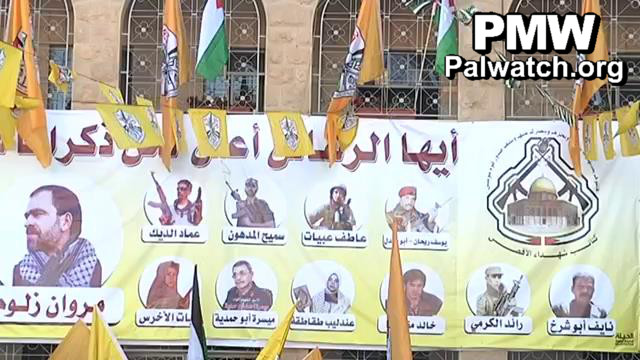 In his speech representing President Mahmoud Abbas, District Governor of Hebron Kamel Hamid said: 'I convey the President's [Abbas'] greetings to you. Our Martyrs and prisoners will remain the beacon of our magnificent glory until the dream of the Martyr and [Fatah] founder Yasser Arafat, [Hamas founder] Ahmed Yassin and all the [other] Martyrs is fulfilled with the establishment of our Palestinian state. We must be loyal to these heroes in all aspects.'
Fatah Central Committee member and the Movement's Commissioner for Mobilization and Organization Mahmoud Al-Aloul said: 'I will never forget the companions of Martyr Abu Saja. Today, we remind you of all the Martyrs who opposed and protested injustice and came out against the occupation, to protect the honor of our children. Indeed, they died as Martyrs for the homeland and [for] honor. We are committed to being loyal to them and to maintaining the struggle until we have achieved what they died as Martyrs [to achieve].'
In a speech on behalf of the central Hebron [Fatah] branch, Branch Secretary Imad Kharwat said: 'The Martyrs are the giants of history and are greater than us all, for they set an example for us in Palestine, and are the [very embodiment of] honor.'…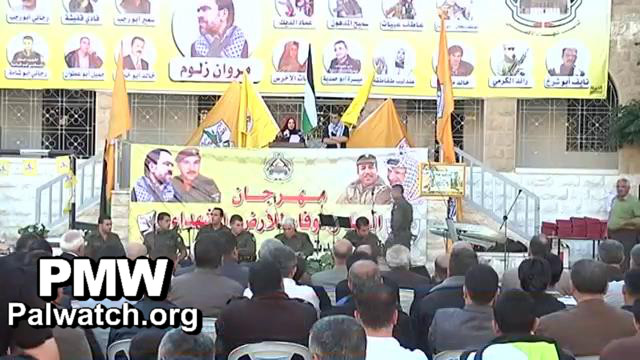 Later, the families of the prisoners and Martyrs were honored."
The following terrorists appeared on a poster at the event: Ayyat Al-Akhras, Andalib Takatka, Marwan Zalum, Raed Al-Karmi, Atef Abayat and Naif Abu Sharakh.
[Pictures from Wattan TV May 14, 2014]
Click to view bulletin
Notes :
Marwan Zalum was the commander of the Hebron branch of the Tanzim (Fatah terror faction). He was responsible for several terror attacks in the Hebron region, including shooting infant Shalhevet Pass in her stroller and killing her on March 26, 2001. He also provided the explosive device used in a suicide attack at the entrance to Mahane Yehuda (central Jerusalem outdoor market) on April 12, 2002, in which 6 were killed and 80 wounded. He organized the planting of a bomb in southern Hebron, which killed Israeli soldier Shai Cohen on July 9, 2001, and initiated a shooting attack at the entrance to Kiryat Arba on July 12, 2001, in which 1 person was killed. He was killed by the Israeli army on April 22, 2002.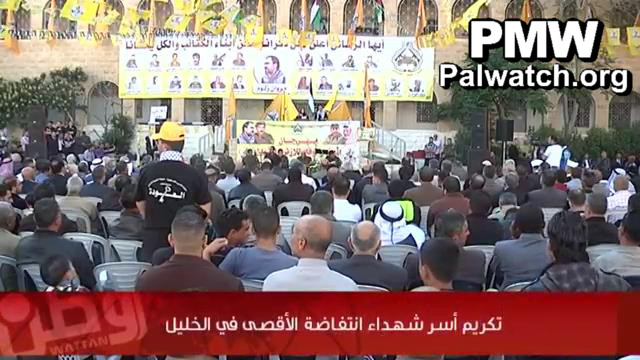 Sheikh Ahmed Yassin - Founder and former head of the terrorist organization Hamas. The Hamas movement is responsible for numerous terror attacks and the deaths of hundreds of Israeli civilians.

Ayyat Al-Akhras - the youngest female Palestinian suicide bomber (age 17). She killed 2 Israelis and injured 28 in a suicide bombing near a Jerusalem supermarket on March 29, 2002. Israel transferred the terrorist's body to the PA on Feb. 2, 2014.

Andalib Khalil Muhammad Suleiman or Andalib Takatka – female suicide bomber who killed six and wounded more than 80 in her attack on Jerusalem's Mahane Yehuda outdoor market on April 12, 2002.

Raed Al-Karmi – was a senior Tanzim (Fatah terror faction) operative and responsible for the murder of nine Israelis in several attacks: Etgar Zeituni and Motti Dayan on Jan. 23, 2001; Zvi Shelef on May 31, 2001; Danny Yehuda on June 18, 2001; Elie Na'aman on July 4, 2001; Dov Roseman on Aug. 26, 2001; Hananya Ben Avraham on Oct. 5, 2001; soldier Yaniv Levy on Aug. 28, 2001 and Israeli army officer Erez Merhavi on Sept. 6, 2001. Al-Karmi was killed by the Israeli army on Jan. 14, 2002.

Atef Abayat – a Tanzim (Fatah terror faction) commander in Bethlehem who was accused of murdering Sarit Amrani in a shooting attack in the West Bank (Sept. 20, 2001). He was also accused of shooting at the Jerusalem neighborhood of Gilo. Abayat was killed in a car explosion about a month after the murder of Sarit Amrani. PMW has been unable to verify the circumstances surrounding his death.

Naif Abu Sharakh was the commander of the Al-Aqsa Martyrs' Brigades (Fatah's military wing) in Nablus. He was involved in many terrorist attacks against Israel, including a double suicide bombing in Tel Aviv on Jan. 5, 2003 in which 23 people were killed and dozens were injured. Sharakh was killed by the Israeli army on June 26, 2004.



» View analysis citing this item