The Commentator on PMW report: "Even Jesus has been Palestinianised"

Pope to come face to face with the Palestinian Jesus
Pope Francis will be welcomed at the Palestinian Museum with paintings from great artists such as Raphael and Caravaggio that have been "modified" to highlight the Palestinian cause.
Even Jesus has been Palestinianised.
As Pope Francis begins his trip to the Middle East on Saturday, his advisors face a tricky conundrum. While the Pope has pledged to make his first visit to the region, "a purely religious trip", the seemingly intractable conflict between Israel and the Palestinians makes politics unavoidable.
Pope Francis will be brought face to face with this reality with an exhibit commissioned by the Palestinian Authority that merges Biblical art works featuring Jesus with the suffering of Palestinians.
As watchdog group Palestinian Media Watch (PMW) reports in a press release:
"The exhibit consists of visual displays merging classical paintings of biblical scenes with photos of Palestinians and have been "designed by the Palestinian Museum at the request of the Presidential Higher Committee for Church Affairs", PMW said quoting Al-Hayat Al-Jadida.
Examples include The Deposition (see picture above) painted by Italian renaissance artist Raphael in 1507. In the Palestinian version, the legs of Jesus merge into the legs of an injured Palestinian being dragged away under the watchful eye of an armed Israeli soldier.
The Incredulity of Saint Thomas (1602), by Caravaggio is another example. This is what the original looks like.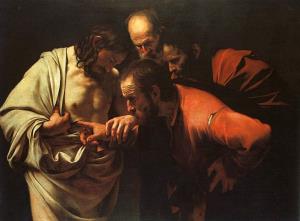 And this is the Palestinian version with an Israeli soldier looking over a Palestinian identity card where, in the original, "Doubting Thomas" looked in incredulity at Jesus's wounds after the resurrection.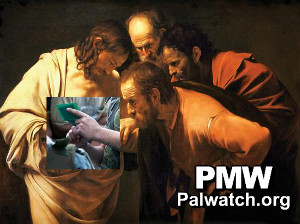 According to PMW, Palestinians have a track record not merely of using such Christian images as a weapon in the propaganda war against Israel, but even of claiming that Jesus was a Palestinian.
"As Palestinian Media Watch has documented, the PA has misrepresented Jesus for years, claiming he was not a Judean as in Christian tradition, but rather a "Palestinian," thereby claiming a Palestinian history dating back to the time of Jesus. This exhibit reinforces the pretense that Jesus was a Palestinian by visually merging the image of Jesus in classical art with pictures of Palestinians."
The Palestinian Authority daily was quoted as saying: "The Palestinian Museum will welcome Pope Francis with visual displays that shed light on the life of our people in the shadow of the occupation."

[http://www.thecommentator.com/article/4971/pope_to_come_face_to_face_with_the_palestinian_jesus]