Fatah defends Abbas' condemnation of kidnapping, claims he spoke for diplomatic reasons
Fatah's Facebook page, "Fatah – The Main Page" posted a response to the criticism PA Chairman Mahmoud Abbas has received for his speech to the foreign ministers of the Islamic countries in which he condemned the kidnapping of the three Israeli youths Eyal Yifrah, Gilad Shaar, and Naftali Fraenkel, who were abducted on June 12, 2014: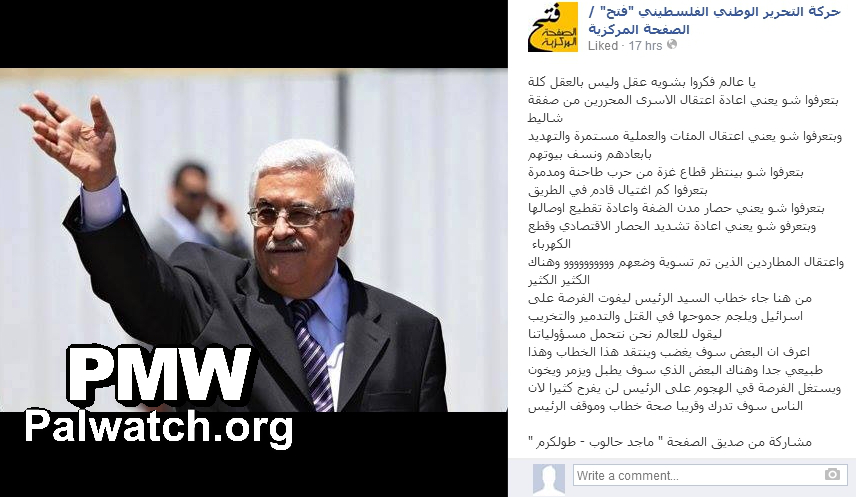 "People, think just a little logically, do you know what the re-arrest of the prisoners who were released in the Shalit deal means?
Do you know what the arrest of hundreds [of people] – and the operation is still going on – and the threat of their expulsion and the demolishing of their homes means?
Do you know what a difficult and destructive battle awaits the Gaza Strip?
Do you know how many assassinations are expected along the way?
Do you know what a siege of the West Bank cities and their dismemberment means?
Do you know what tightening the economic blockade once again and cutting the power means?
[And do you know the meaning of] the arrest of wanted persons whose status has been resolved, and many additional matters?
This was the intention of the President's [Abbas'] speech, to make sure Israel does not get a chance [to carry out the above] and to curb its killing, destruction and devastation, in order to tell the world we are fulfilling our obligations.
I know there are those who will be angry and criticize this speech – and that's natural – and there are those who will beat drums, play the flute (i .e., cause a disturbance, protest), accuse [the President] of treason and use this opportunity to attack the President. They will not rejoice for long, because people will soon understand the correctness of the President's speech and position."
On June 12, 2014, Israeli teens Eyal Yifrach, 19, Gilad Shaar, 16, and Naftali Frenkel, 16, were kidnapped while hitchhiking in the West Bank. The boys' bodies were found by Israeli security forces near Hebron on June 30, 2014. They appeared to have been shot to death soon after the abduction.

In October 2011, the Israeli government agreed to release 1,027 Palestinian prisoners from Israeli prison in exchange for Israeli soldier Gilad Shalit, who had been held hostage by Hamas for more than 5 years.