Australian Jewish News quotes PMW founder Itamar Marcus on PA cartoons glorifying kidnapping


PA cartoon glorifies kidnapping

by Nathan Jeffay

The Palestinian Authority's official newspaper marked the kidnapping with a cartoon that spoofed the World Cup logo.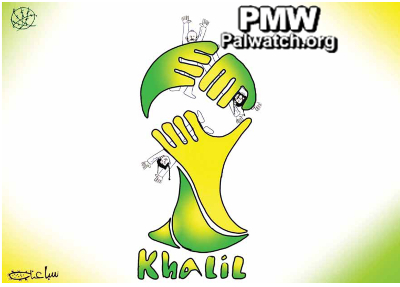 Three hands hold the globe in the FIFA World Cup logo, but in
Al-Hayat Al-Jadida
, three hands held small helpless figures with their hands up in surrender. While the World Cup logo says "Brazil" under it, the spoof says Khalil, the Hebrew name for Hebron, a city near the site of the kidnapping.
"The cup is clearly a champions' cup and the cartoon is clearly a celebration of the capture of the Israelis," said Itamar Marcus, head of the Palestinian Media Watch monitoring group. "The official cartoonist of the Palestinian Authority was clearly celebrating."

Marcus called upon Palestinian President Mahmoud Abbas to change the editorial line of his official media. He told The AJN: "Glorifying any terrorist act is immoral and it's not only the kidnapping that should be condemned. Abbas should be condemning the glorification of it as well."
It wasn't just Abbas's state institutions lauding the kidnapping; it was also his political party, Fatah.
A cartoon on a Fatah Facebook page presented the three kidnapped Israeli teenagers as mice caught on three hooks on a fishing rod. Each mouse was emblazoned with a Star of David, and the title of the cartoon read "Masterstroke."
A picture on the same Facebook page showed a hand with words written on three of the fingers. Read in succession they said: "Three Shalits, long live Palestine."
The statement issued by Abbas which condemned the kidnapping was mostly focused on criticising the Israeli response. It decried the raids in the search for intelligence, which it called "break-ins to Palestinian homes," and the "persecution of numerous innocent people."
The reference to the kidnapping read: "The Palestinian President's Office condemned the chain of events that took place last week, from the kidnapping of the three Israeli youths to the series of consecutive Israeli violations."
[http://www.jewishnews.net.au/pa-cartoon-glorifies-kidnapping/35689]