Fatah falsely depicts murdered teens as "soldiers"
Fatah falsely depicts murdered teens as "soldiers"
- posted pictures of "Israelis crying over killed soldiers"
in response to murderer of Frenkel, Shaar and Yifrach
by Itamar Marcus and Nan Jacques Zilberdik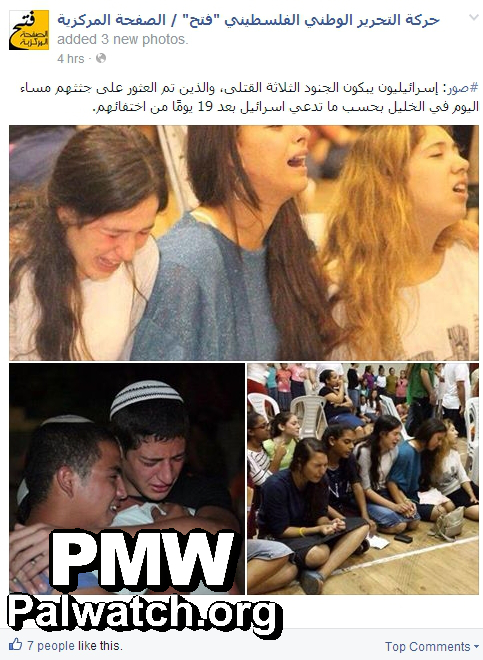 Following its Facebook celebrations of the kidnapping of three Israeli teens, the Fatah movement, headed by Mahmoud Abbas, referred to the murdered kids as "soldiers" in its first reaction to the news of the discovery of the boys' dead bodies.
Fatah posted photos of young Israelis mourning the death of the three students Naftali Frenkel, aged 16, Gilad Shaar, aged 16, and Eyal Yifrach, aged 19, and wrote:
"Israelis crying over the three killed soldiers, whose bodies, according to Israeli claims, were found this evening in Hebron, 19 days after they disappeared."
[Facebook, Fatah - The Main Page, July 1, 2014]

Two weeks ago, Fatah celebrated the kidnapping with posts on its official Facebook page, including a caricature showing the three kidnapped boys as mice caught on the hooks of a fishing rod.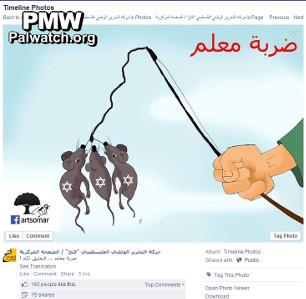 Text on image: "Masterstroke"
Status text: "Masterstroke... open to interpretation."
Palestinian Media Watch has documented additional responses to the kidnapping from the Palestinian Authority and Fatah.
The Fatah Facebook page where these pictures and cartoons were posted, called "Fatah - The Main Page," is an official Fatah Facebook page. The page defines itself as belonging to the Fatah Mobilization and Organization Commission, and the official website of Fatah's Mobilization and Organization Commission links to this Facebook page.