Fatah hands out candy to celebrate alleged "kidnapping" of Israeli soldier
Fatah hands out candy
to celebrate "kidnapping" of Israeli soldier
claimed by Hamas
by Itamar Marcus and Nan Jacques Zilberdik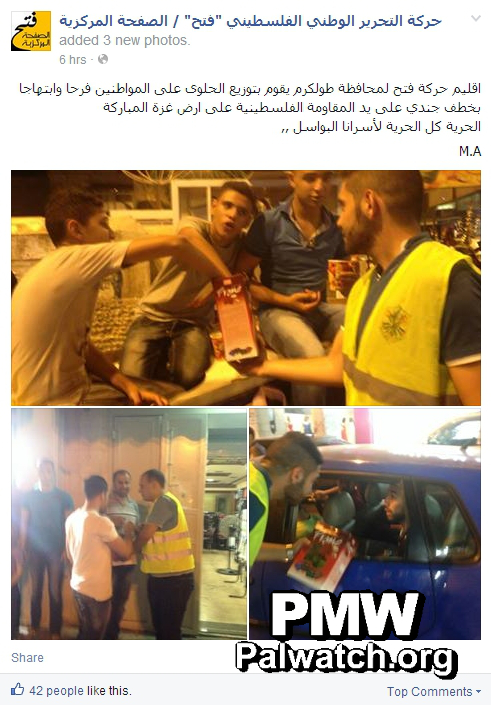 The official Facebook page of Mahmoud Abbas' Fatah party posted images from the Palestinian city of Tulkarem showing Fatah activists handing out candy to people in the street to celebrate the "kidnapping of the Israeli soldier" in Gaza. Yesterday, Hamas disseminated the claim that it had kidnapped a soldier - a claim that has since been refuted by Israel.
Alongside the images, the site administrator wrote:
"Fatah's Tulkarem branch hands out candy to residents in celebration of the kidnapping of the soldier by the Palestinian resistance on the blessed land of Gaza. Full freedom to all our brave prisoners."
[Facebook, "Fatah - The Main Page," July 21, 2014]
Fatah also celebrated the kidnapping of three Israeli teenagers last month, posting celebratory cartoons and victory signs on its Facebook page. Indeed, Palestinian Media Watch has documented statements by PA leaders promoting the kidnapping of Israeli soldiers and portraying kidnapping as a legitimate strategyfor achieving the release of Palestinian terrorists from Israeli prisons.
During the current fighting between Israel and Hamas, Fatah has expressed pride and joy over the rocket fire against Israel. This is how Fatah addressed Israelis, in Hebrew: "Death will reach you from the south to the north... The KN-103 rocket is on its way toward you."
Fatah also recentlyglorified a female military unit training to fire rockets, and presented female suicide bombers as role models.
Palestinian Media Watch has documented and reported on Fatah's use of Facebookfor supporting Hamas and encouraging violence and terror attacks against Israel.