Fatah posts video calling for Palestinian factions to unite by using the rifle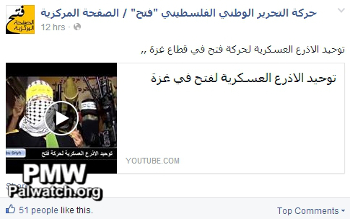 Text:
"The union of Fatah's military wings in the Gaza Strip."
The site published a link to a video on YouTube:
Video caption
:
"The union of Fatah's military wings in the Gaza Strip under the general command of the Al-Aqsa Martyrs' Brigades (Fatah's military wing)."
Narrator:
"We are here to witness what the Fatah military wings see as an advanced step toward their unification. Fatah was not in a good state during the years of the rift, and one of its central problems was its large number of military wings, which weakened the movement that had been the most popular [movement] during the time of the deceased President Yasser Arafat. Two years of internal dialogue have borne fruit." ...
Another unidentified masked man:
"A message to all Fatah members: the rifle remains, and it is the first and only option. Allah willing, we will liberate the occupied territories with the rifle of Fatah and the other resistance factions."
Note: This video was posted during the 2014 Gaza War as Hamas was firing thousands of rockets at Israel and as Israel was responding with Operation Protective Edge, which aimed at destroying Hamas' terror infrastructure and ability to launch rockets at Israel.
The Facebook page where this item was posted, called "Fatah - The Main Page," is an official Fatah Facebook page. The page defines itself as belonging to the Fatah Mobilization and Organization Commission, and the commission's official website links to this Facebook page.