Fatah proud to be shooting rockets at Israel: "The rocket will terrorize you"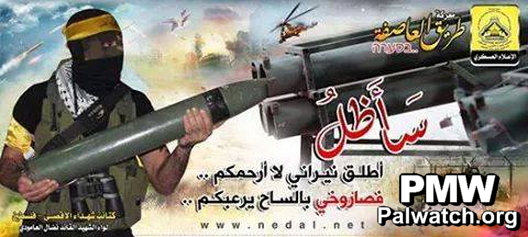 Text on photo:
"I will continue shooting at you and will not pity you. The rocket will terrorize you in the battlefield."
Text below photo:
"The Al-Aqsa Martyrs' Brigades' (Fatah's military wing) Nidal Al-Amoudi division bombarded the Zikim military base and Yad Mordechai [kibbutz] with five 107 rockets, as part of the 'Path of Al-Asifa' operation:
With Allah's grace and the strength He gave to the pure arms that strike deep [inside] the fragile Zionist entity – Palestine's Al-Aqsa Martyrs' Brigades (the Martyr-Commander Nidal Al-Amoudi division) succeeded in bombarding the Zikim military base with two 107 rockets at 10:22 a.m. and the Yad Mordechai settlement with three 107 rockets at 11:05 a.m. on Sunday, August 24, 2014.
The Brigades confirm that its fighters will continue to crush the occupation fortresses, wherever they are. The [Brigades] will not withdraw from the path of resistance, and all Brigade units are fully prepared to teach the enemy severe lessons it will find hard to anticipate.
Bombardment for bombardment, killing for killing, terror for terror."
Note: The Facebook page where this item was posted, called "Fatah - The Main Page," is an official Fatah Facebook page. The page defines itself as belonging to the Fatah Mobilization and Organization Commission, and the commission's official website links to this Facebook page.