Abbas' paper tells children and adults to use violence
Itamar Marcus and Nan Jacques Zilberdik
|
Abbas' paper tells children and adults
to use violence

by Itamar Marcus and Nan Jacques Zilberdik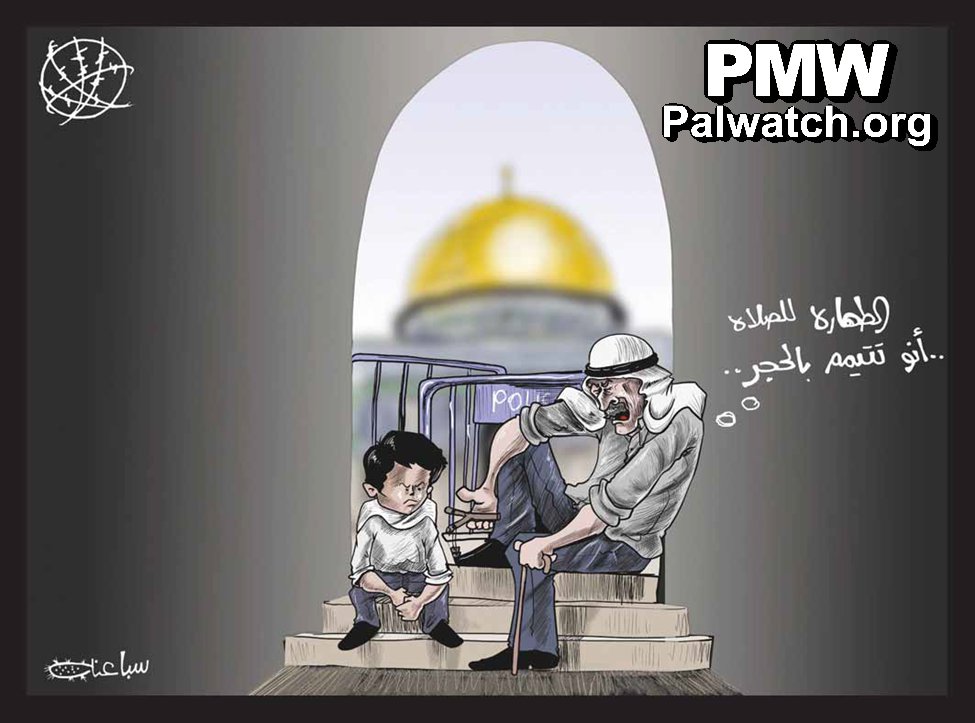 Text: "Purification before prayer is performed with stones"
[Al-Hayat Al-Jadida, Nov. 2, 2014]


Two cartoons in Abbas' official Palestinian Authority daily encourage Palestinians to throw stones at Israelis. One cartoon showed a father and son before an Israeli Police barrier at the entrance to the Dome of the Rock. The father hands his son a slingshot and the text instructs:


"Purification before prayer is performed with stones."


The other cartoon showed a man standing on top of the Dome of the Rock shooting with a slingshot while giving blood to the Dome.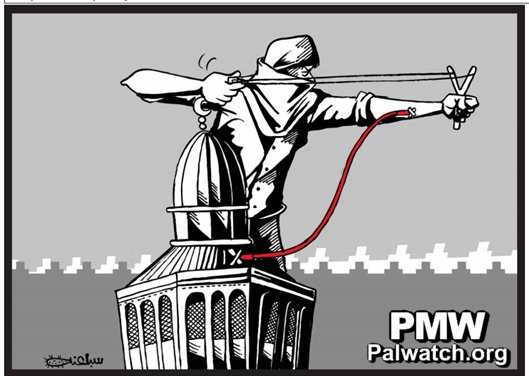 [Al-Hayat Al-Jadida, Nov. 1, 2014]

Stone-throwing at cars has led to the deaths of many Israelis, such as the deaths of Asher Palmer and his infant son Yonatan on Sept. 23, 2011.

For years, the Palestinian Authority and Fatah have voiced the libel that Israel is planning to destroy the Al-Aqsa Mosque and other Muslim holy sites. Lately, Palestinian leaders have been condemning Jewish visits and those who wish to pray at the Temple Mount, warning of the "danger" of Judaization of Jerusalem.


Such a warning
was issued by PLO Executive Committee and former PA Prime Minister Ahmed Qurei (Abu Alaa), who warned of the conference organized by Rabbi Yehuda Glick, who was later shot and critically wounded by a terrorist.

PA Chairman
Abbas himself even implicitly called for violence
to prevent Jews from going to the Temple Mount, as documented by
Palestinian Media Watch
.