Fatah cartoon: Netanyahu holds snake that is poised to attack Al-Aqsa Mosque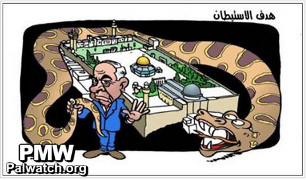 Netanyahu holds the tail of a snake that surrounds the Al-Aqsa Mosque compound. The snake has his mouth open, ready to attack.
Text: "The goal of the occupation"

Note: This cartoon was published a few days after Mutaz Hijazi, an Islamic Jihad member and released prisoner, attempted to murder Rabbi Yehuda Glick. Rabbi Glick is the Chairman of the Temple Mount Heritage Foundation that works to increase awareness of the central place the Temple Mount and the Temple hold in Jewish heritage through educational activities and by encouraging people to visit the Temple Mount. Rabbi Glick was seriously wounded in the shooting attack (Oct. 29, 2014).