Israel is raping Al-Aqsa Mosque - Cartoon posted by PA National Security Forces
Itamar Marcus and Nan Jacques Zilberdik
|
PA National Security Forces:
Israel is raping Al-Aqsa

by Itamar Marcus and Nan Jacques Zilberdik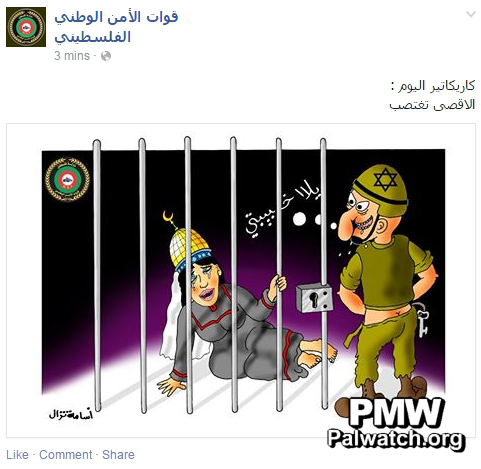 Text above cartoon: "Daily cartoon: Al-Aqsa is being raped."
Text in cartoon: "Come on, sweetheart."
A cartoon showing an Israeli soldier about to rape the Al-Aqsa Mosque portrayed as a woman in jail was posted today by the National Security Forces of the Palestinian Authority. A woman is weeping in a prison cell while an Israeli soldier is undoing his pants outside the cell, saying: "Come on, sweetheart." The woman is wearing a headdress shaped as the Dome of the Rock. The cartoon appeared with the text: "Daily cartoon: Al-Aqsa is being raped."
This cartoon appears while tension is high in Jerusalem and Palestinian officials are repeatedly telling Palestinians that Jerusalem and its Muslim holy places are in danger.
PA Chairman Abbas himself implicitly called for the use of violence
to protect the Al-Aqsa Mosque, and praised the terrorist who tried to kill Rabbi Yehuda Glick as a "Martyr" who died "defending our people's rights and holy places", as reported by Palestinian Media Watch.
Recently, the official PA daily also published two cartoons, which promoted the use of violence to defend Muslim holy sites.