PA-run Ramallah Ministry of Education Facebook posts picture of "Palestine" replacing Israel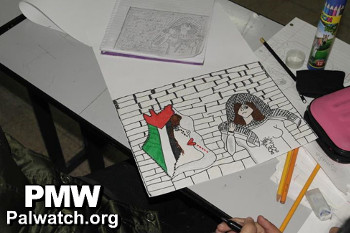 Image posted on the Facebook page of PA Ministry of Education, Ramallah and El-Bireh district.
Image contains drawing of a Palestinian woman standing in front of a wall, with the image of the well-known Palestinian cartoon character Handala drawn on her stomach. Alongside the woman is the profile of a personification of "Palestine" as a weeping woman wearing a head covering in the shape of a Palestinian flag covering all of Israel and the PA areas.