Fatah magazine named after terrorist Dalal Mughrabi: "Generations speak of it [her terror attack] with utmost pride"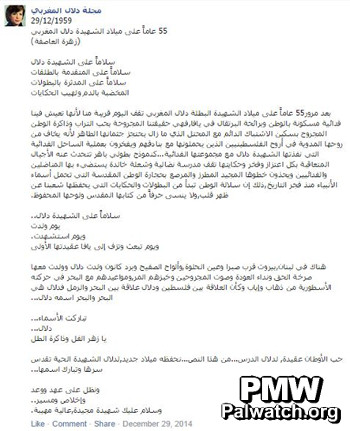 Text in image
: "55 years after the birth of the heroic Martyr (
Shahida
), Dalal Mughrabi stands close to us because she lives within us. A self-sacrificing fighter (
Fida'iya
), haunted by the homeland and the smell of a Jaffa orange. She is our truth, wounded from the love of the land and the memory of the homeland wounded by the knife of the endless confrontation with the occupation. It [the occupation] still holds her pure body, because it fears her spirit echoing in the souls of the Palestinians, who carry her with their rifles, and are proud of the self-sacrificing coastal [road] operation (i.e., Coastal Road massacre in 1978 in which 37 Israeli civilians were murdered and 70 wounded), carried out by Martyr Dalal, together with her self-sacrificing squad. The following generations speak of it with utmost pride and glory as a glowing example of heroism. Her story is a school for the struggle, and an eternal torch, serving to illuminate the [path of] the fighters and self-sacrificing fighters (
Fedayeen
). They follow her praised path set with the sanctified stones of the homeland…
Peace be upon Martyr Dalal, on the day she was born and on the day she died a Martyr. And on the day she is resurrected and accompanied to Jaffa as a bride…
Peace be upon you, praised and exalted Martyr."
Note: The Dalal Mughrabi Magazine Facebook page - An electronic "magazine" published by the Culture Committee of the Fatah Shabiba student movement at the Birzeit University containing information about Shabiba events at the university, national holidays, Fatah anniversaries, historically important days/events for Fatah and occasional news items. The profile picture on the page is a photo of terrorist Dalal Mughrabi who led the most lethal terror attack in Israel's history, known as the Coastal Road massacre, in 1978, when she and other Fatah terrorists hijacked a bus on Israel's Coastal Highway, killing 37 civilians, 12 of them children, and wounding over 70.