Poll: 84% of Palestinians believe Israel may be behind terror attacks in France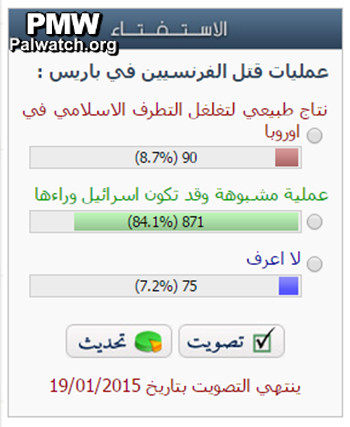 On Jan. 7, 2015, Muslim terrorists Cherif and Said Kouachi carried out a shooting attack at the Paris office of satirical magazine Charlie Hebdo. 12 people were killed in the attack, which was a response to cartoons the magazine published about Islam's Prophet Muhammad. On Jan. 8, in a connected attack, Muslim terrorist Amely Coulibaly shot and killed a policewoman in Paris and on Jan. 9, he shot and killed 4 Jewish shoppers at a Paris kosher supermarket.
While Abbas officially condemned the terror attacks in France, PMW has documented different PA reactions to the attacks. Some have condemned them while at the same time condemning Charlie Hebdo for mocking Islam's Prophet Muhammad. Others have compared the terror attacks in France to Israeli "terrorism" against Palestinians, and some have even claimed that Israel was behind the attacks.

Weekly survey published by the independent Palestinian news agency Ma'an:
[As of publication, 1,100 people participated in the survey]
"The murders of the French [citizens] in Paris were:
- A natural result of the spread of Islamic extremism in Europe (8.7%)
- A suspicious operation; Israel is possibly behind it (84%)
- Don't know (7.2%)"