Fatah Facebook honors terrorists Al-Karmi and Khalaf, both of whom planned attacks that killed civilians
Text and image posted on Fatah's Facebook page, "Fatah – The Main Page":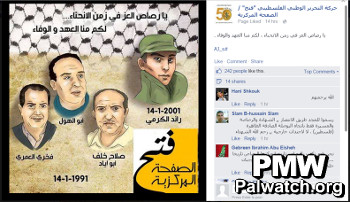 Text on image
: "O bullets of honor in time of surrender, we are loyal and committed to you"
Portraits on image, right to left
: Raed Al-Karmi, Abu Iyad (Salah Khalaf), Abu Al-Hol and Fakhri Al-Omari
Notes: Raed Al-Karmi – a senior Tanzim (Fatah terror faction) operative responsible for the murder of nine Israelis in several attacks: Etgar Zeituni and Motti Dayan on January 23, 2001; Zvi Shelef on May 31, 2001; Danny Yehuda on June 18, 2001; Elie Na'aman on July 4, 2001; Dov Roseman on August 26, 2001; Hananya Ben Avraham on October 5, 2001; soldier Yaniv Levy on August 28, 2001 and Israeli army officer Erez Merhavi on September 6, 2001. Al-Karmi was killed by the Israeli army on January 14, 2002.

Abu Iyad (Salah Khalaf) – A founder of Fatah and head of the terrorist organization Black September. Attacks he planned include the murder of 11 Israeli athletes at the Munich Olympics (Sept. 5, 1972) and the murder of two American diplomats in Sudan (March 1, 1973). It is commonly assumed that his assassin, a former Fatah bodyguard, was sent by the Abu Nidal organization, a rival Palestinian faction.

Abu Al-Hol and Fakhri Al-Omari – Fatah members assassinated together with Abu Iyad (Salah Khalaf) in 1991.