Abbas' Fatah promotes rocket attacks
Itamar Marcus and Nan Jacques Zilberdik
|
Abbas' Fatah promotes rocket attacks
by Itamar Marcus and Nan Jacques Zilberdik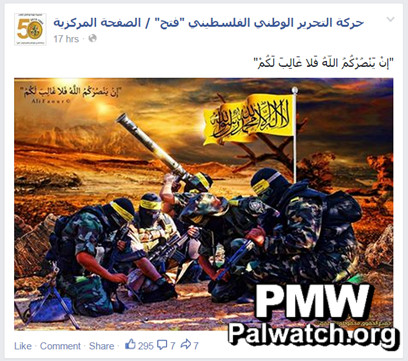 Abbas' Fatah movement has once again demonstrated its support for terror and violence, as Palestinian Media Watch keeps exposing. The above picture showing masked Fatah fighters launching rockets at Israel was posted on Fatah's official Facebook page with a quote from the Quran, indicating that according to Fatah, even Allah sanctions the use of terror attacks:
"If Allah should aid you, no one can overcome you."
(Quran, Sura 3:160, translation Sahih International)
[Facebook, "Fatah - The Main Page", Jan. 27, 2015]
The text on the flag is Islam's declaration of faith: "There is no god but Allah, and Muhammad is the messenger of Allah."
Another recent Fatah post also showed the rifle as an integral part of the Fatah movement and the way it wants to "resist" Israel.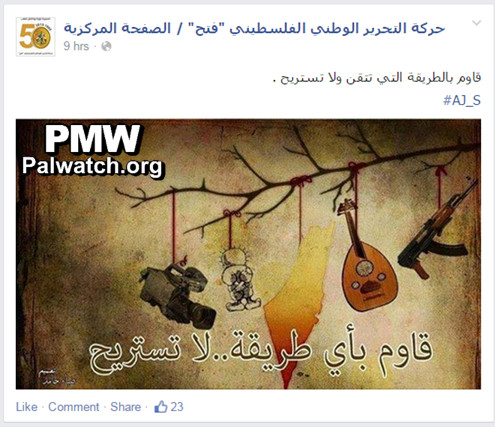 The text on the image says: "Resist in any way, do not rest." The image shows objects hanging from a tree: A rifle, an oud, a map of "Palestine" that includes all of Israel and the PA areas, a well-known Palestinian caricature and a camera. [Facebook, "Fatah - The Main Page", Jan. 26, 2015] Fatah's message is that "resistance" should be performed in several ways - by documenting events (camera), by way of the pen (cartoon character Handala), through cultural events (oud), and by using the rifle.
Click to view other examples of PA and Fatah promotion of violence.