11 MEPs call to stop funding the PA, citing PMW documentation
11 MEPs call to stop funding the PA,
citing PMW documentation


Headline: Eleven members of the European Parliament urge to stop financial flow to organisations actively promoting terror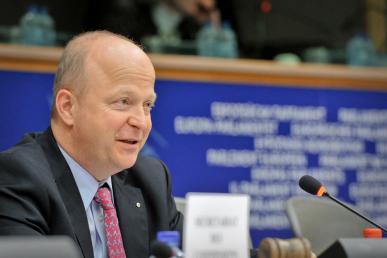 German Liberal MEP Michael Theurer
BRUSSELS (EJP)---In a written declaration, 11 members of the European Parliament have called on the EU to cut the financial flow to organisations actively promoting terror "as the best way to fight terrorism."

"We have many indications that countries such as Pakistan or entities such as the Palestinian Authority, funnel EU money towards terrorist organisations, such as Al-Qaeda or Hamas. With this Written Declaration we are urging the European Court of Justice and the European External Action service to follow up on these indications and deliver final proof, so that funding can be frozen," said German Liberal MEP Michael Theurer, one of the signatories.

He mentioned in particular the so called "law of prisoners" of the Palestinian Authority which, he said, "raised suspicion to how EU financial assistance might be spent."

The law grants prisoners that participated in "the struggle against Israel's occupation" an average monthly salary of 3129 US Dollars, according to a report by Palestinian Media Watch (PMW).

In the declaration, the MEPs stress that... "The European Court of Auditors (ECA) and the European External Action Service (EEAS) are called upon to subject to special scrutiny those recipients of high levels of EU funding, for example the Palestinian Authority and Pakistan, where there is a suggestion of evidence of support for terrorist activity."

"Where there are indications of such abuse, the European Commission is called upon to freeze or reduce funding until the necessary checks and control measures have been put in place," the declaration says.

The declaration was also signed by MEPs from various political groups : Antanas Guoga (Lithuania, ALDE), Petras Austrevicius (Lithuania, ALDE), Johannes Cornelis van Baalen (Holland, ALDE), Tunne Kelam (Estonia, EPP), Lars Adaktusson (Sweden, EPP), Indrek Tarand (Estonia, Greens,EFA), Geoffrey Van Orden (UK, ECR) Ryszard Czarnecki (Poland, ECR), Bas Belder (Holland, ECR), Monika Flasikova Benova (Slovakia, S&D).
[http://ejpress.org/index.php?option=com_content&view=article&id=51738]