Fatah magazine named after arch-terrorist Dalal Mughrabi, "the Martyr" and "radiant"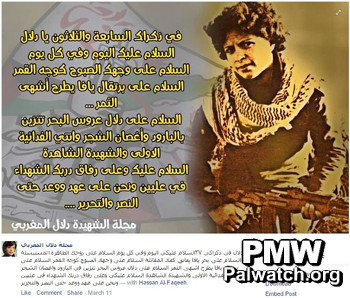 Image of Dalal Mughrabi
Posted text (same as text on image)
:
"On the 37th anniversary, peace be upon you today and every day
Peace be upon your face, radiant as the face of the moon
Peace upon the orange of Jaffa, the most delicious fruit…
Peace upon Dalal, bride of the sea who adorns herself with gunpowder and tree branches.
The first female self-sacrificing fighter (
Fida'iya
) and the Martyr who sees it all.
Peace be upon you and your fellow Martyrs in the highest Heavens.
We are committed to the promise until victory and liberation.
The Dalal Mughrabi Magazine."
Note: The Dalal Mughrabi Magazine Facebook page - An electronic "magazine" published by the Culture Committee of the Fatah Shabiba student movement at the Birzeit University containing information about Shabiba events at the university, national holidays, Fatah anniversaries, historically important days/events for Fatah and occasional news items. The profile picture on the page is a photo of terrorist Dalal Mughrabi who led the most lethal terror attack in Israel's history, known as the Coastal Road massacre, in 1978, when she and other Fatah terrorists hijacked a bus on Israel's Coastal Highway, killing 37 civilians, 12 of them children, and wounding over 70.