PA TV live program shows maps that erase Israel with keys symbolizing right of return
The following images appeared in a special live program broadcast from the abandoned village Damun near Acre, in commemoration of the 67th Nakba anniversary. The program also broadcast from the Al-Buss refugee camp near Tyre, to enable the former inhabitants of Damun living in Israel to speak to their relatives from Lebanon.
Images show a large poster in the Damun broadcasting studio.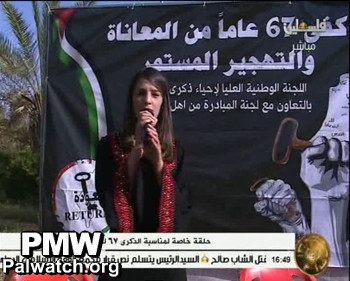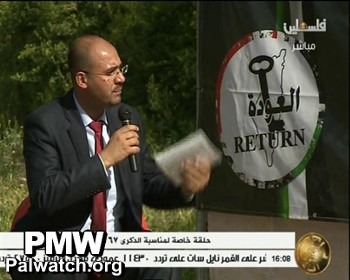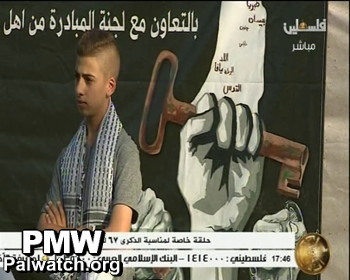 Text on poster
: "67 years of suffering and ongoing expulsion are enough."
In the upper right side of the poster is a map of "Palestine" that includes the PA areas as well as all of Israel, with names of main cities and places in Israel such as Jaffa, Lod, Haifa, Acre, Jerusalem, Tiberias and Beit She'an.
In the lower part of the map is a hand holding the "key of return."
In the lower left corner there is a logo of the Nakba anniversary, showing a map that includes the PA areas as well as all of Israel and a key, with the word "return" in Arabic and English.
The following institutions were involved in the event:
1. PA TV – hosted the program and broadcast it from Israel and Lebanon.
2. The Supreme National Committee to Commemorate the Nakba, responsible for holding events in commemoration of the Nakba anniversary in the Gaza Strip and in the West Bank.
3. The People of Damun's Initiative Committee.