Sunday Express: "Foreign aid scandal" following PMW's report to British MPs
Sunday Express: "Foreign aid scandal"
following PMW's report to British MPs
PMW report reveals that the PA continues to pay salaries to convicted terrorists,
despite assurances to Western donors
Itamar Marcus, director of Palestinian Media Watch, appeared before members of British, Dutch, and German parliaments last week to present PMW's new report entitled: "Is the PA lying to Western donors? The PA claims to have stopped paying salaries to prisoners; PMW's evidence shows otherwise."

PMW's report has already made a significant impact in Europe, with MPs from the 3 parliaments speaking out against the PA's ongoing glorification of terrorists and the PA practice of rewarding convicted terrorists with salaries.

The following article from Sunday Express reports on the "foreign aid scandal" that is now taking place in the UK in response to PMW's report:
Foreign aid scandal: UK money is 'STILL going to convicted Palestinian terrorists'

TAXPAYERS' cash given to help rebuild Palestine is being used to "reward and incentivise" terrorists, it has been claimed.
by Anil Dawar, May 22, 2015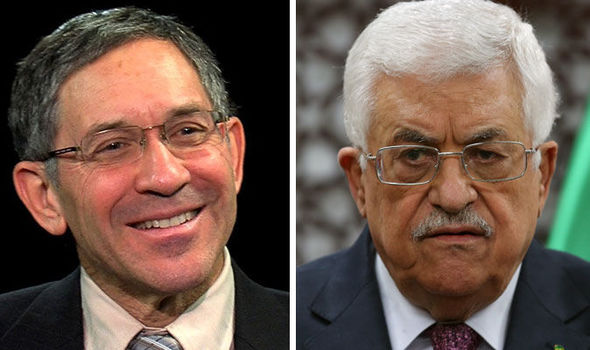 Itamar Marcus says Mahmoud Abbas's Palestinian Authority has continued the payments
The Palestinian Authority (PA) has taken around £130million in foreign aid from the Department for International Development over the past five years.

The public cash is being used to help it fund its estimated £84million annual wage bill for convicted terrorists locked up in Israel, according to campaigners.

Palestinian Media Watch (PMW) claims that Britain may have been "intentionally misled" by the PA which last year claimed to have stopped the controversial payments but was later discovered to be
_____________________________

British taxpayers will be appalled to discover that the Palestinian Authority is handing their hard-earned money to convicted Palestinian terrorists
Statement by Tory MPs Guto Bebb, James Morris and Andrew Percy
_____________________________
channelling the cash through another political group.

MPs today called for the Government to suspend all aid to the PA until payments to convicted terrorists cease.

In a joint statement, Tory MPs Guto Bebb, James Morris and Andrew Percy said: "British taxpayers will be appalled to discover that the Palestinian Authority is handing their hard-earned money to convicted Palestinian terrorists.

"The PA should be strongly condemned for deceiving well-intentioned donor countries into thinking that it had ended this shocking practice.

"The British Government must seriously reconsider its provision of aid to the PA's general budget until it ceases this abhorrent practice of financially rewarding and incentivising terrorism."

The PA's practice of paying huge salaries to jailed terrorists was exposed by PMW in 2011.

The money is reserved for those "resisting the occupation" of lands Palestinians regard as theirs but which are part of the Israeli state.

Around 5,500 Palestinian terrorists could be drawing salaries and bonuses.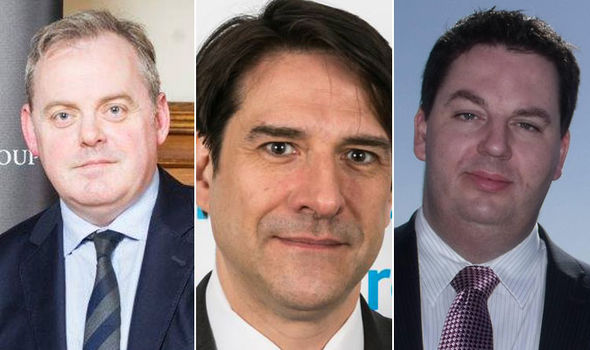 Tory MPs Guto Bebb, James Morris and Andrew Percy condemned the payments
Among those now eligible are Abdullah Barghouti, Hassan Salameh and Jamal Abu Al-Hijja who are serving 122 life sentences between them for planning suicide bombings.

The number of those being paid could rise to 200,000 when the families of suicide bombers and the wounded are added.

Some of the longest serving prisoners will be getting up to £2,000 a month plus bonuses for their wives and children.

PMW said grants on release can be as much as £50,000, which dwarfs the £300 average monthly wage in the West Bank and Gaza Strip.
The Palestinian Authority has said the money is not salaries but welfare payments.

Itamar Marcus, director of PMW, this week presented a report on the issue to the British, Dutch and German parliaments.

He told MPs at Westminster that Palestinian political leaders last year ordered the payments be halted after an outcry from Western donors which give around £640million a year to help rebuild the state.

Although President Mahmoud Abbas publicly ordered the Ministry of Prisoners' Affairs to halt the payments, he then passed on the duty to the specially created Commission of Prisoners' Affairs run by the Palestine Liberation Organisation, meaning the money is still being paid out.

Mr Marcus said: "The PA's creation of a PLO Commission of Prisoners' Affairs to fulfil the same services previously supplied by the PA Ministry of Prisoners' Affairs, was done solely to satisfy Western donors' demands that the PA cease paying salaries to terrorist prisoners.

"The existence of the PLO Commission has not changed the PA practice of paying salaries to terrorists.

"The PA continues to reward and pay salaries to terrorists in prison in spite of European and US demands that donor money to the PA not be used to reward terrorists."

Last night, a DFID spokesman said: "UK aid to the Palestinian Authority is used for the sole purpose of paying the salaries of civil servants, who are responsible for providing health, education and other essential services."