Terrorist Abu Jihad, "one of the great founders of Fatah," praised for planning and carrying out terror attacks
Text and video published on Fatah's Facebook page, "Fatah – The Main Page"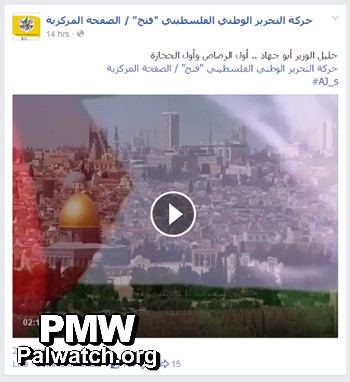 Posted text
: "Khalil Al-Wazir 'Abu Jihad', the first bullet and the first stone"
Text in video
: "The first bullet and the first stone, Khalil Al-Wazir 'Abu Jihad'.
Abu Jihad
: "It's enough to say that the history of our Palestinian people for the last 66 years, which were filled with acts of heroism and sacrifice that won the respect and trust of the whole world, has begun to be corrupted due to disputes and conflicts. Our Palestinian arena has been filled with attacks raising doubts and finding fault. Despite this, we say that the only way to deal with this is to meet in the arena of democratic dialogue…"
Visuals
:
00:32: Photos of armed Palestinians
00:47: Picture of charred bus from the coastal road attack
"Khalil Al-Wazir 'Abu Jihad' number two in the Fatah movement and one of its great founders, together with President Yasser Arafat. In his most advanced leadership positions Abu Jihad was an example of self-sacrifice, humility, in strengthening the struggle, and adherence to national unity.
He carried out self-sacrificing (
Fedayeen
) operations (i.e., terror attacks) from his youth, and planned a number of important and exceptional military operations (i.e., terror attacks) against the Israeli occupation and its forces. He founded the Fatah [youth] movement Shabiba in the occupied territories.
He took on himself the responsibility to aid and guide the popular first Intifada (i.e., Palestinian wave of violence and terror against Israel, 1987-1993) from its outbreak in 1987 until his Martyrdom-death (
Shahada
) in the large assassination operation the Israeli Intelligence, the Mossad (i.e., Israeli Secret Intelligence Service) carried out in Tunisia on April 16, 1988.
'We won't succeed as factions. Only national unity will bring victory.' -Khalil Al-Wazir 'Abu Jihad'".

Note:
Abu Jihad (Khalil Al-Wazir) was a founder of Fatah and deputy to Yasser Arafat. He headed the PLO terror organization's military wing and also planned many deadly Fatah terror attacks. These attacks, which killed a total of 125 Israelis, included the most lethal in Israeli history - the hijacking of a bus and killing of 37 civilians, 12 of them children.

Coastal Road Massacre - In March 1978, a group of Fatah terrorists from Lebanon led by Dalal Mughrabi hijacked a bus on Israel's Coastal Highway. Confronted by the Israeli army, the terrorists killed many of the passengers on the bus, in total 37 civilians, 12 of them children, and wounded more than 70. The attack, orchestrated by arch-terrorist Abu Jihad (Khalil Al-Wazir), is known in Israel as the Coastal Road Massacre.