Fatah: Israel is like the Islamic State
Itamar Marcus and Nan Jacques Zilberdik
|
Fatah: Israel is like the Islamic State
3 cartoons present Israel as terrorist killer of peace
Itamar Marcus and Nan Jacques Zilberdik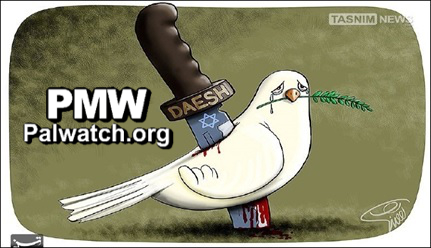 With the Islamic State being accepted internationally as a genocidal terror group, the PA and Fatah are repeatedly
comparing Israel
to the Islamic State as their new method of hate speech against Israel, as
Palestinian Media Watch
has reported.
Last month, an official Fatah website showed a peace dove being stabbed by a knife marked with both the acronym for Islamic State - "ISIS" (Daesh) - and the Star of David. (See image above)

[Fatah's Information and Culture Commission website, March 14, 2015]
A similar message was expressed in another cartoon, showing Israeli Prime Minister Benjamin Netanyahu standing on the statue of a dove and beheading it with a hammer. Text on the image said: "Netanyahu: 'There will be no new withdrawals from the Palestinian territories!'" Behind Netanyahu is a black and white flag similar to the flag of the Islamic State but with a Star of David.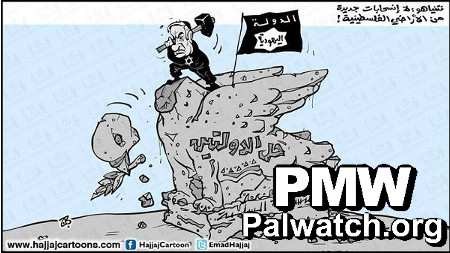 Text on flag: "The Jewish State."
Text on statue: "Two-State Solution" and "Peaceful Agreement."
[Fatah's Information and Culture Commission website, March 14, 2015]
The message that Islamic State and Israel are allies was expressed by Fatah with a cartoon showing an Israeli soldier and an ISIS soldier standing embraced as partners in the same battle while shooting rifles. The soldier's helmets bear a Star of David and the acronym "ISIS." The cartoon was entitled "Two sides of the same coin." [Fatah's Information and Culture Commission website, March 4, 2015]