PA TV visits home of prisoner involved attacks that killed 8, and calls him "heroic prisoner"
Official PA TV program
Giants of Endurance
visited the home of the family of [Shadi] Said Al-Saaideh - sentenced to two life sentences, arrested in 2002.
The following text appears while Al-Saaideh's mother is speaking: "Mother of the heroic prisoner Said Al-Saaideh, Salfit"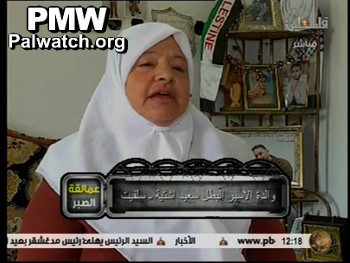 Note: Shadi Said Al-Saaideh - was serving 8 life sentences for his participation in the shooting attack at the Ein Arik checkpoint on Feb. 19, 2002, in which 6 Israeli army soldiers were killed, for the murder of a Palestinian he had suspected of collaborating with Israel, and for his involvement in the terror attack at the Tel Aviv promenade on July 15, 2003, in which Amir Simhon was murdered. He died in prison in 2007.