Fatah officials wish for freedom for prisoners, including Marwan Barghouti and other terrorists
Fatah Central Committee and PLO Executive Committee member Saeb Erekat
: "I, [Director of PLO Commission of Prisoners' Affairs and PA Parliament Member] brother Issa Karake, [Chairman of the Prisoners' Club] brother Qadura Fares, and the [PLO] Negotiation Department staff are honored to welcome the esteemed ambassadors, representatives, and consuls of friendly Arab and foreign countries, and the Arab and foreign press, to a mass Ramadan fast-breaking meal in honor of families of our heroic prisoners. I welcome each one of you, and we ask of Allah that when we have our Ramadan fast-breaking meal next year, the prisons will be empty… At this moment there are 22 [imprisoned] Palestinian parliament members and political leaders, among them: [PA Parliament Member] Marwan Barghouti, [Former head of PFLP] Ahmad Sa'adat, [PA Parliament Member] Sister Khalida Jarrar, and others…
Glory and eternity to our strong-hearted Martyrs (
Shahids
), freedom for our prisoners, recovery to our wounded. Long live Palestine, long live Palestine, long live Palestine!"
Director of PLO Commission of Prisoners' Affairs and PA Parliament Member Issa Karake
: "Here sit families with all their children in prison, Samer Al-Issawi, his sister, and also his brother -three children in prison. Um Nasser [Abu] Hmeid, also three (sic, she has four sons in prison, -Ed.) children in prison, and mother of a Martyr."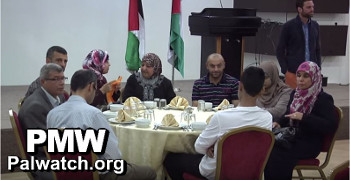 Latifa Abu Hmeid, mother of four prisoners,
is shown sitting (center) at a table with Issa Karake (left) and others
Notes: Marwan Barghouti - serving 5 life sentences for orchestrating three shooting attacks that killed 5 people: one in Jerusalem (June 12, 2001, 1 killed), another in Givat Zeev near Jerusalem (Jan. 15, 2002, 1 killed), and one in Tel Aviv (March 5, 2002, 3 killed). When arrested in 2002, he headed the Tanzim (Fatah terror faction). After he was convicted and imprisoned, he was re-elected member of the Palestinian Authority parliament.

Ahmad Sa'adat - serving a 30-year sentence for heading the PFLP terror organization. A song at a PFLP event also praised him for planning the assassination of Israeli Minister of Tourism Rehavam Ze'evi in 2001, but he has not been tried for this crime.

Samer Al-Issawi - belonged to the Democratic Front for the Liberation of Palestine DFLP. Was serving a sentence of 26 years in prison for attempted murder by manufacturing and distributing explosives and shooting at civilian vehicles in 2002, but was released in October 2011 as part of the Shalit prisoner exchange deal brokered between the Israeli government and Hamas. In that deal, Israel released 1,027 Palestinian prisoners in exchange for Israeli soldier Gilad Shalit, who had been held hostage by Hamas for more than 5 years. Al-Issawi was re-arrested in 2012 for violating the conditions of his release. He was released again in December 2013. In May 2015, his original prison sentence was reinstated and he was re-imprisoned.

Khalida Jarrar – PA MP arrested on April 12, 2015 for being a member of the terror organization PFLP (Popular Front for the Liberation of Palestine), for inciting to kidnap Israeli soldiers and inciting to terror. Jarrar's case is still pending as of this writing (Aug. 13, 2015).

Um Yousuf Abu Hmeid (Latifa Abu Hmeid) - The mother of four prisoners serving multiple life sentences. She is also called Khansa of Palestine (referring to a woman in the earliest period of Islam who sent her four sons to battle and rejoiced when they all died as Martyrs), honored in 2010 and in 2015 by the PA, and was chosen in 2011 to launch the PA's statehood campaign with the UN.