PA TV broadcast from cemetery includes poster with map erasing Israel and poster commemorating terrorist Dalal Mughrabi
Official PA TV program
One Day We will Return
from the Al-Badawi Refugee camp in Lebanon
First image shows a map of Israel in a cemetery with pictures of "the Martyrs" (
Shahids
) of Fatah, among them terrorists Abu Jihad and Abu Iyad.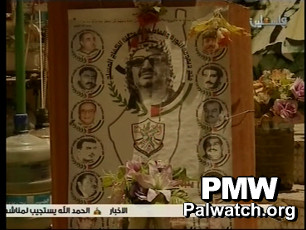 Second image shows a cemetery with pictures of Yasser Arafat and terrorist Dalal Mughrabi.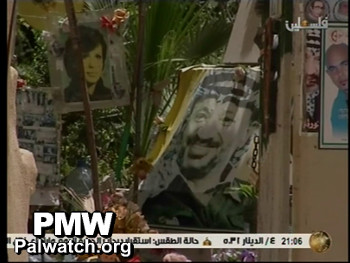 Notes: Abu Jihad (Khalil Al-Wazir) was a founder of Fatah and deputy to Yasser Arafat. He headed the PLO terror organization's military wing and also planned many deadly Fatah terror attacks. These attacks, which killed a total of 125 Israelis, included the most lethal in Israeli history - the hijacking of a bus and killing of 37 civilians, 12 of them children.

Abu Iyad (Salah Khalaf) - Founder of Fatah and head of the terrorist organization Black September. Attacks he planned included the murder of 11 Israeli athletes at the Munich Olympics (Sept. 5, 1972) and the murder of two American diplomats in Sudan (March 1, 1973).

Dalal Mughrabi led the most lethal terror attack in Israel's history, known as the Coastal Road massacre, in 1978, when she and other Fatah terrorists hijacked a bus on Israel's Coastal Highway, killing 37 civilians, 12 of them children, and wounding over 70.